South Carolina
Personal Injury
Experienced Personal Injury Attorneys Fighting For You

4.8 Average on Google
South Carolina Personal Injury Lawyer
We are dedicated personal injury lawyers that will do Fight to Win the settlement you deserve. Use our live chat or call 888-HAWKLAW to get your case initiated.
Why Is Personal Injury Legal Representation So Important?
We can never prepare for an accident, and we can never know if insurance will provide fair and just compensation. Our lawyers have years of training and experience in protecting your best interests and striving for the fair compensation settlement you need.
Have you been Injured?
We're Ready to Fight for You
Get Your Case Started Immediately. We'll Be There for You. Anytime. Anywhere.
Why Choose HawkLaw's Personal Injury Attorneys
HawkLaw, P.A. is a dedicated team of personal injury lawyers serving clients in Columbia, Charleston, North Charleston, Greenville, Myrtle Beach, Orangeburg, Spartanburg, and the other surrounding areas in South Carolina. We're not just your lawyers; we're here to give you the support you deserve.
You don't have to fight your case alone. We'll provide sound legal advice, fight passionately, and work tirelessly for your claim. As a digital-first law firm, you can get your case initiated immediately so we can start fighting for you. Call 888.HAWK.LAW today or use our live chat, and we'll get to work right away!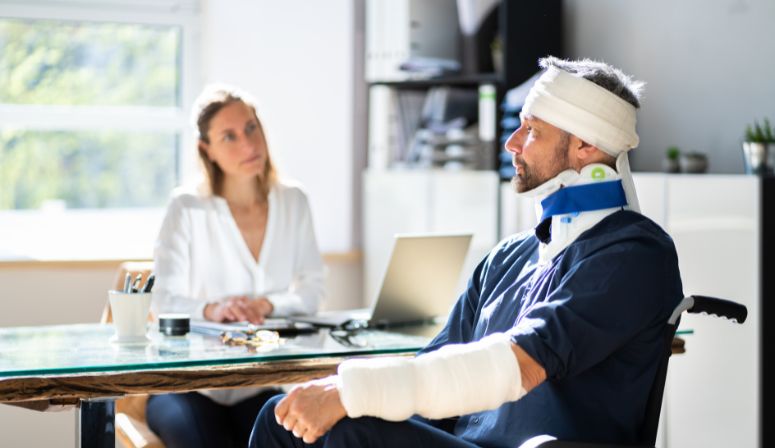 Personal Injury Claims In South Carolina
How much is your personal injury case worth? Don't let the carelessness of others or a lack of cooperation from insurers and their adjusters deny your right to fair and just compensation. We'll find the right South Carolina personal injury lawyer for your case and fight for you.
Common Personal Injury Cases
Personal injury cases result from a number of different types of accidents, some, unfortunately, causing catastrophic injuries which result in high medical costs and long-term treatment. If you are in an accident, it's important to seek medical attention right away and then immediately consult an attorney in personal injury law who can strive to protect your legal rights and empower you to receive the justice you deserve. HawkLaw works in several different practice areas, including but not limited to:
Motor Vehicle Accidents
The physical, mental, and financial toll of an auto accident is a difficult and expensive experience. But you don't have to go through it alone. We're here to help submit your claim, provide legal guidance, and offer heartfelt support.
Learn more about how we'll represent you as your car accident lawyer.
Work Accidents
It's hard to recover from an accident on the job and even harder to go back to work. That's why we want to streamline your entire claim process. Our trained work injury lawyers will review your case and fight for the worker's compensation benefits you deserve.
Learn more about how to claim the benefits you deserve with our worker's compensation lawyers.
Premises Liability (Slip-and-Fall)
Suppose you have an important meeting that ends, tragically, in a slip and fall, trip and fall, or other premises liability injury. You don't have to prove the building owner's negligence alone. We have diligent premises liability attorneys ready, willing, and able to fight for a fair and just settlement.
Learn more about how to protect your well-being with our slip and fall lawyers.
Dog Attacks
We love our furry little friends but, occasionally, dog bites do occur and they can be very serious. If you're the victim of a dog attack, you likely have questions, and we have the answers. We'll help you understand your rights and figure out how to move forward.
Learn more about how to recover from an unexpected attack with our dog bite legal services.
Medical Malpractice
We all trust doctors to do the right thing while under their care, but what if a costly mistake leaves us in debilitating pain? We want you to walk out of the doctor's office healthy and happy, which is why we'll stand by your side in fighting against medical malpractice.
Learn more about how we stand up for medical malpractice cases in the form of:
The attorneys at HawkLaw will explore all legal options and strategies available to pursue the compensation your family is entitled to receive.
Compensation For South Carolina Injury Victims
As we determine your claim type and who might be at fault for your injuries and responsible for your medical bills, we'll also work to win you the compensation you deserve. This compensation should cover all the suffering—financial and otherwise—that you've endured because of your injury.
You'll more than likely suffer several types of damages after being injured in South Carolina, which we have detailed below.
How Is Pain and Suffering Calculated in South Carolina?
Compensation for pain and suffering in South Carolina is based on economic and/or non-economic damages. Economic damages are calculated based on actual financial losses you've suffered, whereas non-economic damages are additional awards you may receive based on the severity of your accident, and compensation is determined by the non-monetary losses you and your family have suffered.
You can claim non-economic damages in most types of personal injury cases since the likelihood you've suffered non-monetary losses from a serious injury is high. Examples of accidents where individuals can claim pain and suffering include car accidents, truck accidents, motorcycle accidents, pedestrian accidents, and bicycle accidents.
Economic Damages From Your Injury
The easiest damages to calculate the value of will be your economic damages. This category includes the financial losses you've suffered because of your accident—both current and future. This includes your medical expenses, lost wages, any property damage, and any other economic costs tied to your injuries. These damages are usually determined by adding the costs together and estimating future expenses.
SC Personal Injury Non-Economic Damages
Non-economic damages are more complicated. These are the emotional, physical, and mental hardships you've suffered because of the injury. These are intangible losses that don't come with a clear price tag. This category might include damages like pain and suffering, mental anguish, disfigurement, and loss of consortium.
Because you may have trouble calculating your intangible damages, it's helpful to speak with a lawyer before you begin. These damages will depend on the amount of suffering you've experienced, which can be difficult to determine without legal guidance. Our attorneys have the resources and tools you'll need to get an accurate picture of the compensation you're owed.
Punitive Damages Attorneys
If the person who injured you meant to harm you, or if his or her actions were especially reckless, you may be entitled to more than the damages described above. While those damages are meant to compensate you for the hardships you've experienced, punitive damages (also called exemplary damages) are intended to punish the wrongdoer for his or her actions.
This serves two purposes. It financially punishes the at-fault party for acting carelessly. It's also intended to prevent similar actions by others, who might not realize that the consequences of their actions can be especially serious.
But punitive damages aren't easy to obtain. You'll need to prove that the at-fault party's actions were wanton, willful, or reckless, which isn't easy to do without help. You'll also need to keep in mind that there is a cap on punitive damages. Still, a personal injury lawyer in South Carolina can help you maximize your compensation—no matter your situation.
How South Carolina Law Will Affect Your Injury Claim
While every claim is different and your attorney will need to keep all relevant South Carolina laws in mind, nearly all personal injury claims will be affected by two basic laws: the statute of limitations and comparative negligence.
South Carolina Statue of Limitations
The statute of limitations limits the amount of time you have to file your claim. In South Carolina, you'll typically only have three years to file your claim. If you miss this deadline, you could lose your chance at compensation because the courts will likely refuse to hear your case.
Modified Comparative Negligence
Once you file your claim, you're still not guaranteed the full compensation you need. South Carolina recognizes modified comparative negligence. This means that, if you're found to hold some of the blame for your injuries, your compensation will be reduced by that percentage. For example, if you're found to be 20 percent at fault, you'll receive only 80 percent of the awarded compensation.
Being found to hold more than 51 percent of the fault means you won't be eligible for compensation. But having any blame pointed at you can hurt your claim. You want compensation for your damages, after all. You can protect your claim by having your attorney fight back against any accusations of negligence on your part.  Click the link to find out what to do if you cannot afford an attorney.
Contact a South Carolina Personal Injury Lawyer Today
If you or a family member has suffered injuries received in an accident or lost a loved one in a wrongful death accident, contact the personal injury lawyers at HawkLaw. Insurance companies and their adjusters, unfortunately even your own, typically don't have your best interests at heart. The trial lawyers and legal team at HawkLaw will always put your needs as the top priority.
The personal injury attorneys at HawkLaw have years of experience and will stand with you every step of the way, working hard to get you the best compensation results possible. Call our law firm today at 888.HAWK.LAW or complete our online contact form to receive a free consultation.*
Frequently Asked Questions
How much should I ask for in a personal injury settlement?
Believe it or not, there is no true average payout for a personal injury legal claim in South Carolina.
The potential payout amount depends on factors like the circumstances that caused the accident and the amount of available insurance. The severity of your injuries and the incident that caused the accident will influence the amount you submit in your personal injury claim. Your
lawyer will negotiate a settlement
that's fair and just to cover the physical, mental, and emotional trauma you sustained as a result of the accident.