South Carolina
Burn Injury
Helping You Seek Justice From an Unjustified Burn

4.8 Average on Google
South Carolina Burn Injury Attorney
Burn injuries can lead to permanent scarring, disfigurement, and disability. We understand the pain that stems from such an injury. HawkLaw Fights to Win on your behalf for rightful compensation. Simply call 888-HAWKLAW or talk to us using our live chat and our team will get to work.
A burn injury can occur almost everywhere, especially around the home or in the workplace. According to experts at John Hopkins Medicine, the leading causes of burn injuries are smoking or open flames for adults, and scalding for young children. Many of these burns are classified as thermal burns, in which scalding liquids, hot metals, steam, or flames make contact with exposed skin.
Accidents do occasionally occur, but negligence or bad intentions leave innocent victims forced to live with unsightly scars and damaged skin for the rest of their lives. Someone must be held accountable for those injuries, and that is what we, at HawkLaw, vow to fight for on your behalf. We believe in accountability and reparations to innocent victims, and we use all of our skills to fight for justice.
Have you been Injured?
We're Ready to Fight for You
Get Your Case Started Immediately. We'll Be There for You. Anytime. Anywhere.
Why Choose HawkLaw's Burn Injury Lawyers
If you have been the victim of a burn injury, you'll likely face serious psychological issues as a result of the incident, even after the wound has fully healed. The scars from a burn injury are more than just physical, and they amount to a personal injury that affects your entire persona.
At HawkLaw, we believe in seeking justice for negligent behavior that, one, causes bodily harm to innocents and, two, leaves permanent scars that victims must live with for the rest of their lives. That is why our team of attorneys and investigators will work diligently to fight for your right to fair and just compensation. As a digital-first law firm, you can get your case initiated immediately so we can provide legal advice and start fighting for you. Call 888-HAWKLAW today or use our live chat, and we will get to work right away!
Non-fatal burns are a leading cause of extended hospitalizations, disfigurements, and disabilities, according to the World Health Organization. The consequences of these injuries often result in social stigmas and rejections that cause permanent psychological scars.
Children and adult women are more likely to lose their lives as a result of a serious burn. However, burn injuries, in general, are more common in adult men than in other demographics.
Types And Causes Of Burn Injuries
Thermal Burns
These are the most common burns and are a result of a heat source causing searing damage to exposed skin. Hot products, steam, car accidents, and small fires are the most frequent causes of thermal burns.
Electrical Burns
Unlike other types of burns, damage from an electrical burn occurs beneath the top layer of skin. They occur when an electrical current courses through the body, typically due to exposure to a live power wire or a defective electrical appliance.
Chemical Burns
These burns occur when dangerous chemicals are mixed together in unsafe environments. Chemical burns are often unintentional due to a lack of clear warning labels on the chemical products that cause the burn.
Radiation Burns
Radiation burns are a result of long periods of exposure to thermal radiation or ultraviolet light. Sunburns, particularly severe sunburns, are also classified as radiation burns due to the sun's damaging ultraviolet rays.
What Is Considered a Major Burn Injury?
Burn injuries are broken down by the severity of the injury. According to Healthline, the categories of injuries burn victims suffer are described by degrees.
First-degree. The most minor burn on the outer layer of the skin, a person will experience minor inflammation, swelling, and red, non-blistered skin with pain.
Second-degree. An injured person experiences blisters and pain, along with some thickening of the skin; this type of burn goes beneath the first level of the skin.
Third-degree. People suffering this degree of burn suffer a widespread thickness with a white, leathery appearance with significant pain since the burn penetrates through all layers of skin.
Fourth-degree burns. Victims suffer all of the symptoms associated with a third-degree burn, but the burn extends beyond the skin into tendons and bones and can cause nerve damage.
Regardless of the types of burn injuries suffered, medical treatment, especially for a serious burn injury, can be long-term. Over time, this can result in substantial medical expenses.
What to Do After Suffering a Burn?
Burns should be treated right away, especially since some types of burns, such as chemical or electrical burns, cause damage inside of the body even if the exposed areas of the skin are minor injuries. Not all burns should be treated the same. How you should treat an injury depends upon the severity of the burn.
Immediate steps for first-degree burns:
  Soaking the wounded area in cool water for at least five minutes.
  Taking ibuprofen or acetaminophen to relieve the pain.
  Applying lidocaine to the injury, along with aloe vera to soothe the wounded skin.
  Applying antibiotic ointment and loose gauze to protect the burned skin.
Immediate steps for second-degree burns:
  Allowing cool water to run over the affected area for at least 15 minutes.
  Taking ibuprofen or acetaminophen for the pain.
  Applying antibiotic cream to any blisters.
  Seek emergency treatment for burns affecting the face, hands, feet, buttocks, or groin.
  See the doctor if the burn extends beyond three inches, or affects the foot, ankle, knee, spine, shoulder, elbow, or forearm.
Immediate steps for third and fourth-degree burns:
  Call 911 immediately, do not attempt to treat at home.
  Make sure no clothing items stick to the burn.
  Raise injury above the heart.
In any burn injury, avoid using cotton balls and ice, because these can cause complications to the burn injury. Home remedies, such as butter and eggs, are also not proven to be effective and should be avoided. If a chemical or electrical burn occurs, seek emergency treatment immediately.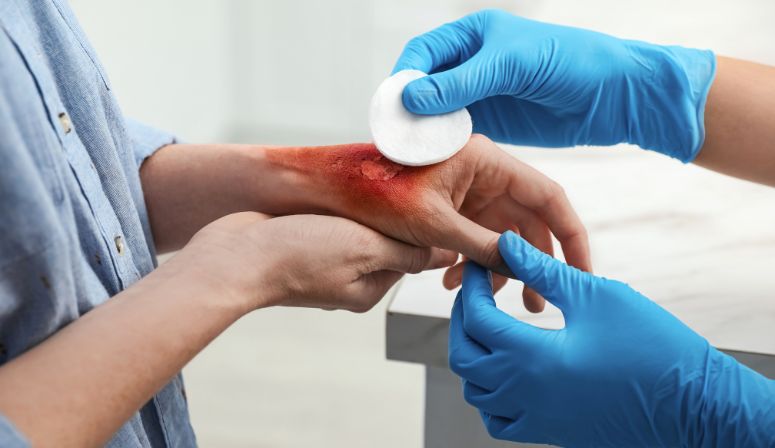 How Long Does It Take a Burn to Heal?
Generally speaking, the healing time for a burn will vary depending upon the degree and type of the burn. According to the American Family Physician web page:
Superficial burns will take approximately three to six days to heal.
Superficial "partial-thickness" burns will take less than three weeks.
Deep "partial-thickness" burns will take more than three weeks.
Full-thickness burns don't fully heal; the edges will heal but the rest of the burn will likely require a skin graft to facilitate healing.
What If My Child Suffered From a Burn Injury?
According to Johns Hopkins, unintentional injury is a leading cause of death in children under the age of 14, with burns being one of the top causes. If your child suffers a burn, it's important to take immediate action since they produce and lose heat at a faster rate than adults. Steps to take when a child suffers a burn injury include:
  Electrical burns should be examined by a doctor ASAP; call 911 to obtain immediate medical attention.
  Disconnect the device or appliance that caused a burn injury from electricity.
  Don't touch the child until the electrical current is broken.
  Check for breathing, begin CPR if the child isn't breathing (and call 911).
  Cover the affected skin area with sterile gauze or a clean bed sheet.
  Avoid giving any food or drink to an injured child.
  Lay the child on their back, with the exception if a back or neck injury is suspected.
  Roll the child to their side if vomiting occurs.
  For chills, use extra blankets or clothing, but avoid using a heat source to warm them.
Statistics indicate approximately 75% of scalding burns in children are preventable. Burn injuries also are often caused by the negligence of another person(s). As a skilled child burn injury attorney law firm, HawkLaw can help determine the cause of your child's burn injury and if any negligence was involved.
Can I Claim Compensation for a Burn at Work?
If you've suffered a burn injury at work, you may be entitled to workers' compensation to cover your medical bills, therapy bills, medications, bandages, and some of your lost wages. If another type of negligence was involved, you may be entitled to file a claim for a burn injury case.
Speaking to an experienced burn injury lawyer is important. Your lawyer will advocate so you can receive the maximum amount to cover your losses, which include injury-related costs and loss of current and future income. Your burn injury attorney will also investigate to see if your injury was caused by a third party's negligence or if any other legal issues are present, including but not limited to defective machinery or equipment, or another factor present at your job.
It's important to speak to an attorney right away since South Carolina does have a statute of limitations of three years to file a personal injury claim.
Let Us Deal With the Pain of Fighting Insurance Companies
Burn injuries can be complex and create significant hardships, including but not limited to having a significant impact on your life, causing physical pain, financial struggles, emotional distress, and psychological suffering. For some victims, life is never the same after a severe burn injury occurs due to decreased quality of life because of the accident.
If you, or a loved one, have suffered a burn injury or wrongful death, the compassionate and experienced attorneys at HawkLaw can help you obtain compensation through a burn injury lawsuit. Any money you receive can help you pay for the medical costs associated with your injuries and any other needs you have struggled with since being injured.
To request a free consultation*, call the South Carolina burn injury attorneys at 888-HAWKLAW or complete our online contact form. A member of our legal team will get back to you right away.
Our personal injury attorneys work with clients from Charleston, Columbia, Greenville, Spartanburg, and in towns like Myrtle Beach and Rock Hill, ultimately serving all of South Carolina. We Fight to Win for injury victims and promise to advocate on your behalf and protect your legal rights every step of the way.
Frequently Asked Questions
When is a burn injury negligence?
Burn injury negligence is classified as injury caused by preventable accidents. Incidents such as defective products, household chemicals without proper warning labels, and preventable workplace hazards are among the most common causes of burn injuries and, yet, also the most preventable. The failure to improve environmental conditions is what makes a burn injury a result of negligence.