South Carolina
Pedestrian Accident
Protecting Your Right to Defensive Walking

4.8 Average on Google
Pedestrian Accident Lawyers in South Carolina
You should always feel safe at crosswalks and intersections. If a negligent driver violates your right to safety on the street, we'll Fight to Win for just compensation for any injury. With our digital-first approach, your case can be initiated at any time. Talk to us using our live chat or call 888-HAWKLAW.
Accident victims and their families face losing a loved one or the long-term consequences of serious, life-altering injuries. They need to know what their rights are in the days that follow. Our South Carolina pedestrian accident attorneys can help.
According to GHSA, pedestrian deaths skyrocketed in 2020. Even with fewer drivers on the road due to the pandemic, pedestrian deaths increased by 4.8 percent. Even accidents that are not fatalities can lead to thousands of dollars of medical bills or long-term health issues.
Have you been Injured?
We're Ready to Fight for You
Get Your Case Started Immediately. We'll Be There for You. Anytime. Anywhere.
HawkLaw's Pedestrian Accident Attorneys Are Here To Fight For You
Collisions between pedestrians and motor vehicles can result in life-altering personal injuries. In a crash between a car and a pedestrian, the car always wins.
However, these types of crashes shouldn't occur as both drivers and pedestrians are responsible for safe conditions where people can cross the road. That's why HawkLaw's detail-oriented pedestrian accident lawyers use the comparative negligence laws to fight for your right to fair and equitable compensation as a result of a driver's negligence at an intersection.
At HawkLaw, our South Carolina pedestrian accident attorneys can help victims and victims' families recover damages. Call 888.HAWK.LAW or use our contact page to schedule an appointment for your free consultation* today.
Common Causes Of Pedestrian Accidents
When an accident occurs, and a pedestrian suffers an injury or loses their life, it is critical to understand why this occurred. Some of the most common causes of pedestrian accidents include:
Distracted Driving: Activities such as texting, talking on the phone, eating, or grooming make it much more difficult for drivers to react when road conditions change. Distracted driving can cause a driver to swerve, striking a person walking by the road or in a crosswalk.
Poor Visibility: It may be hard for the driver to see a person walking through heavy rain or fog in difficult conditions. However, poor visibility does not excuse accidents such as striking a person crossing the street or walking nearby. Poor conditions may mean drivers should not operate a vehicle or should do so with extreme caution.
Driver Negligence: Sometimes, drivers engage in activities such as speeding or other forms of reckless driving, putting other people on or near the road at risk. This can lead to numerous consequences, including the loss of life. Driver negligence may also include operating a vehicle in any type of unsafe condition, poor maintenance of that vehicle, or engaging in illegal activities.
Drunk Driving: Drunk drivers cannot operate a vehicle safely due to cognitive impairment. This may lead to numerous accidents, including serious injuries and death to pedestrians who may be walking nearby.
Failure to Yield: Another common reason for motor vehicle accidents with pedestrians is simply a motorist not paying attention to people walking in crosswalks. Even if the pedestrian has the right of way, the driver may continue on, causing serious injury to those who are present.
Injured pedestrians often have no ability to get out of the way of a vehicle that strikes them. Even if the pedestrian has the right of way, it is likely that the vehicle will strike and cause serious injuries. A HawkLaw personal injury attorney can help you overcome the losses you face due to these types of events, including bike accidents.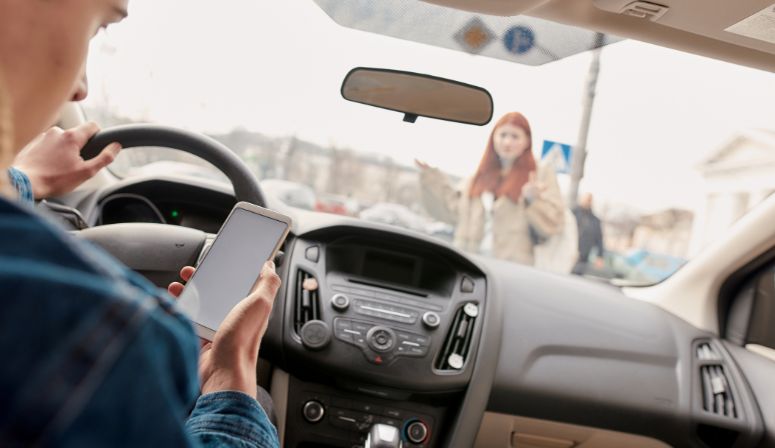 Common Injuries And Damages In A Pedestrian Accident
If you suffered an accident of any type, it is critical to seek medical care right away. Doing so provides the best opportunity to document what's occurred to you. Consider some types of injuries a person may suffer due to an accident with a vehicle.
Traumatic Brain Injuries: The blow from the vehicle can cause a person to hit the ground and strike their head. This can lead to a fractured skull as well as impact to the skull and brain. Traumatic brain injuries may also involve brain bleeds.
Wrongful Death: In some situations, a person can lose their life due to an accident. If you've lost a loved one due to another person's negligence, it's essential to seek legal help. Pedestrian fatalities are common because of the size, force, and trauma such accidents create.
Spinal Cord Injuries: These types of pedestrian accident injuries may lead to long-term complications. Some people may be unable to walk or have the same level of mobility they once had. Some pedestrians suffer debilitating conditions due to being paralyzed. Spinal cord injuries are traumatic because healing is difficult and limited.
Lost Wages: Those hurt due to pedestrian accidents may spend days, weeks, or months unable to work. This may lead to an inability to meet financial obligations. Lost wages are one of the types of compensation you may be able to claim in your case.
Medical Care: Those who suffer significant or minor injuries typically have medical care bills. This may be due to emergency room visits, surgical procedures, in-hospital stays, rehabilitation, and medications. These costs can add up quickly and may span months of care.
Punitive Damages: Punitive damages are damages assessed during the legal process to punish a person for negligence and pay for the losses others experience due to these cases. This may include economic, non-economic, and exemplary losses you've suffered due to the accident.
Emotional Distress: It's not uncommon for individuals to experience emotional distress from a pedestrian accident. Simple things like crossing the street may become difficult due to the trauma this type of accident creates. Traffic accidents like these create long-term emotional damage. You may be entitled to compensation for those losses as well.
If a distracted driver caused your pedestrian accident or someone recklessly ran a red light on their rush to go somewhere, and it caused you to suffer injuries, it's critical to reach out for immediate help. Our South Carolina pedestrian accident lawyers can help you. Allow our legal team to support you as you work toward overcoming these losses.
Do You Need A Car Accident Attorney In A Pedestrian Accident?
Turning to a law firm is an important decision for those who suffered an injury at the hands of another person due to a car accident. There are several situations where this may be important.
Have you lost a loved one as a result of a pedestrian accident? Family members may be able to file a claim for the losses they suffered with the help of a personal injury lawyer to help them get the compensation owed to them from an insurance company or an individual who is responsible.
Do you have high medical expenses as a result of such an accident? If you have numerous medical bills that stem from such an accident, you may feel overwhelmed with what to do about it. Pedestrian accident victims may have thousands of dollars in medical debt created from this type of accident.
Is the driver of the vehicle at fault? In-vehicle accidents like this, it is important to determine who is at fault for the loss. With the help of legal advice from your attorney, you may be able to determine if you have a case. During a case evaluation, your attorney can answer questions to help decide this.
Always consult an attorney if you suffer serious injuries in a pedestrian accident. Even if you are unsure you crossed at a marked crosswalk or if the traffic signals were off, it's always best to reach out to an attorney to determine if you have a case.
What To Do Immediately After A Pedestrian Accident
In most pedestrian accident cases, it's critical to take care of all urgent medical needs immediately. That means calling 911 and waiting for help to arrive. Even if you feel okay, be sure to call emergency services, including the police, to document your case.
If it is possible, gather information from those surrounding you. This may include the contact information for witnesses who may be able to help in your case. You may also want to take photos of the accident if it is safe to do so. Avoid remaining in intersections where you could be at further risk.
Then, seek out a personal injury law team to help you. Contact an attorney to discuss your case immediately. Do not talk to the insurance company before getting an attorney's insight. That helps to protect your compensation. We offer a free initial consultation* that may provide you with the information you need to protect your rights under South Carolina law.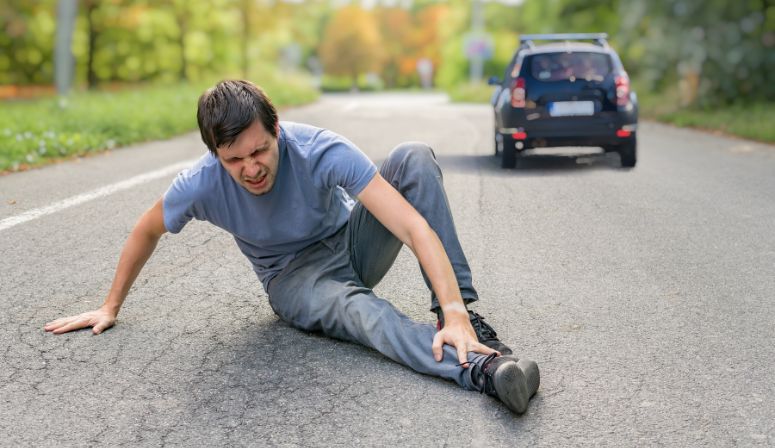 Why Choose HawkLaw's Pedestrian Accident Attorneys
When pedestrians and motor vehicles have to cross paths daily, accidents are bound to occur. In 2015, over 100 pedestrians died from their injuries in these accidents. At HawkLaw, we think one death is too many. When a negligent driver strikes a pedestrian, the law is on the victim's side.
Our team of dedicated pedestrian accident lawyers is ready, willing, and able to help you fight for fair compensation due to a negligent driver's actions at a crosswalk. You do not have to lead that fight alone; that's why we're here, to help you shoulder that weight. As a digital-first law firm, you can get your case initiated immediately so we can start fighting for you. Call 888-HAWKLAW today or use our live chat, and we'll get to work right away!
Pedestrian and Car Accident Law
HawkLaw will work to prove the defendant's fault for a pedestrian accident, and we have the experience to help you win a settlement. We will:
Investigate the Scene
Send our team of investigators to the scene of your accident. They will photograph the location, talk to eyewitnesses, and secure any footage of the accident available.
Obtain Police Reports
We'll review the official police report for your accident, gathering any information we can use to prove your innocence in a pedestrian accident. The law is often on the pedestrian's side in these cases, and a police report may prove that you weren't breaking any roadway rules.
Fight for Compensation
In the event of a pedestrian accident, you'll be forced to seek treatment for your injuries; this treatment is typically very expensive. We'll use all of our investigative skills to build your case.
Frequently Asked Questions
How long does my lawyer have to file a pedestrian accident complaint?
Due to the statute of limitations, South Carolina only affords you three years to file a lawsuit against the at-fault party, so it is important to consult with a lawyer right away. But if some time has passed since your injury, the law does provide some limited exceptions so you might not be out of luck.
Contact HawkLaw
today to find out if you still have a viable claim.
Why do I need a lawyer if I'm involved in a pedestrian accident?
In the event you become victimized by a pedestrian accident, you need to be able to prove the negligence of the driver responsible for the accident. Proving that degree of negligence without legal training is very difficult and unlikely to be well-received within the courts. Hiring a lawyer and an entire legal team of investigators to recreate the accident with documented proof from police reports brings a much stronger case to the courts.
Where does HawkLaw represent clients?
Hawklaw, P.A. has lawyers
for pedestrian accidents fighting out of
Charleston
,
Columbia
,
Greenville
, and Spartanburg. Through these four offices, we serve all of South Carolina. Even if you are in a smaller city like Sumter or Myrtle Beach, we will fight for you. Call us today to schedule your free consultation.*
---