South Carolina
Car Accident At Work In South Carolina
HawkLaw Fights to Get You the Money You Deserve!

4.8 Average on Google
Car Accident at Work in South Carolina Lawyer
Car crashes are confusing and painful, and unfortunately, it only gets more complicated when you have a car accident at work in South Carolina. You'll need to know what to expect before you file anything. What workers' compensation benefits can you receive? Can you receive any?
This can be complex, and you might receive a denial at first, unfortunately. That's why we suggest you speak to a South Carolina personal injury lawyer from HawkLaw before you begin your case. Our attorneys can help you when you've been in an auto wreck at work and are not sure what to do next.
Have you been Injured?
We're Ready to Fight for You
Get Your Case Started Immediately. We'll Be There for You. Anytime. Anywhere.
How Do You Tell Your Boss You Were in a Car Accident On the Job?
The most important thing you need to do is directly let your HR department or supervisor know that the accident occurred. Remember, however, that a simple phone call may not be in your best interest if you want to have all your bases covered when pursuing compensation. Typically, you will want to submit your report in writing and detail the location of the accident, the injuries you suffered, and other information that may be relevant later.
Leaving a paper trail is generally good practice when reporting any injuries on the job, and car accidents are no exception for injured workers. Submit your report in writing in a physical letter and send an additional copy via email. The more methods of communication you use to leave a paper trail, the harder it will be for anyone to deny that you took the proper steps in the wake of your accident.
When South Carolina Car Accidents Are Eligible For Workers' Compensation
First, you'll need to know whether you're eligible for workers' comp. Most workers in South Carolina are typically eligible. Yet, there are a few types of workers that may struggle to secure compensation. If you are part of any of the following groups, you may not have workers' compensation and will need to seek alternative compensation:
Railway workers
Agricultural workers
Some temporary employees
Some federal employees
Do not assume, however, that not being on the above list means that you'll definitely get compensation. Driving will need to have been a part of your work duties in order to get workers' comp benefits for your injuries. For example, an accident during your lunch break might not award you with compensation, but if you were injured while running an errand for your employer, you might have a chance at benefits.
Can I Get Workers' Compensation in South Carolina If I Was in a Car Accident On the Way to Work?
Your daily commute does not qualify as driving for work per South Carolina's coming and going rule. According to this rule, car accidents are not eligible for workers' compensation when traveling to work or leaving work. 
There are exceptions, however, such as when you are asked to complete additional tasks during your commute. For example, if you are asked to make a deposit at a bank on the way home after you leave work, an accident on the way to the bank would still potentially be covered by workers' compensation.
When South Carolina Car Accidents Are Eligible For Workers' Compensation
In general, any car accident that occurs while you are on the job is eligible for workers' compensation coverage. Note that on the job means driving for work purposes during work hours in the vast majority of cases. These are some of the following most common circumstances that would be eligible for workers' compensation.
Making a work-related delivery
Running an errand for your employer
Providing transportation for a client or another employee
Traveling for work such as a traveling salesperson
Driving as part of the daily job such as a postal worker
Workers' Comp Benefits Available in South Carolina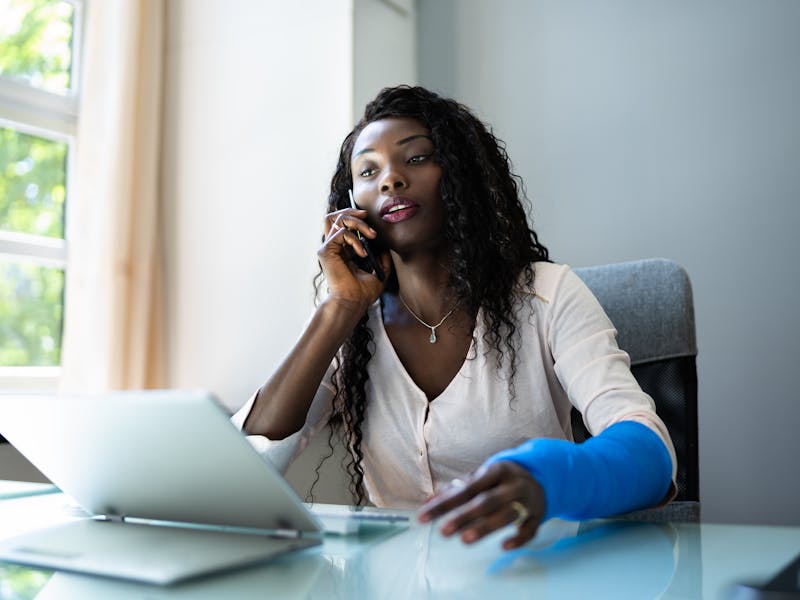 Before you file, do some research to know your potential benefits. Workers' compensation benefits vary depending on the type of injuries you receive and how much compensation you need for your recovery. The insurer and your South Carolina workers' compensation lawyer should review the amount you need and their offer for your claim.
Medical Expenses
First, you should not have to worry about your medical expenses. In South Carolina, all your medical expenses should be covered by your workers' comp benefits. Any expenses included in your treatment, from surgery to therapy for emotional trauma following the accident, should be covered.
Lost Wages
You might not be able to return to work, but fortunately, your benefits should cover this loss, as well. If you are unable to work in any capacity, you should receive about two-thirds of your wages during this period. This can vary if you're able to return in some capacity, but you should have some compensation for your lost wages.
Permanent Partial Disability
Permanent partial disability is a special kind of benefit you can receive if your serious injuries leave you partially disabled. Only certain types of disabilities apply here, and the benefits for lost wages only last for a certain period, depending on which disability you have. As a disclaimer, the benefits cover precisely two-thirds of your salary.
Loss of up to 49% of the use of your back – 300 weeks
Loss of a leg – 195 weeks
Loss of an arm – 220 weeks
Loss of a thumb – 65 weeks
Loss of a big toe – 32 weeks
Loss of another toe – 10 weeks
Loss of an eye or vision in an eye – 140 weeks
Is South Carolina a No-Fault Accident State?
No, South Carolina is not a no-fault state, as it instead utilizes a comparative negligence standard with its car accident laws. This means that fault is an essential part of car accident cases, and your case relies on being able to establish fault for the other party. At least, that is how it works in personal injury cases with a civil lawsuit. Workers' compensation should apply regardless of fault if you sustained the injury while on the job.
Given that you may be able to file a personal injury lawsuit in addition to workers' comp, it is important to understand how the comparative negligence standard works. Under this standard, the amount of fault you have for the accident is deducted from the damages you receive. For example, if you sustained $100,000 in medical bills and are deemed 20% responsible for the accident, you can only receive $80,000 in compensation for your medical treatment. Additionally, anyone who is greater than 50% responsible for the vehicle accident cannot receive compensation in a personal injury claim at all, so at-fault drivers cannot receive benefits.
Can My Employer Fire Me For Getting in a Car Accident At Work in South Carolina?
Yes, your employer can fire you for getting in a car accident at work. While it is more likely to happen if you are at fault, it can happen even if you are deemed 0% at fault by a court. This is because South Carolina is an at-will state, which means that an employer can fire you for any reason they want or no reason at all unless the cause is expressly prohibited by law, like certain kinds of discrimination. 
Getting into an accident is not specifically prohibited, so your employer can fire you for it and not break any laws. However, a reasonable employer would consider fault in their decision.
Can You Be Fired While on Workers' Comp in South Carolina?
Yes, you can be fired while on workers' compensation in South Carolina. As an at-will state, employers in South Carolina can fire employees for any reason or no reason at all, and receiving workers' compensation benefits does not create an exception for employees. It is important to recognize that employers cannot fire you because you filed for workers' compensation. That is one of the few reasons for firing that is protected under South Carolina law. Of course, your employer could claim another reason, so it is ideal to have a South Carolina workers' compensation attorney on your side when you file a workers' compensation claim.
You will not stop receiving benefits if you are fired while receiving workers' compensation. Workers' comp benefits are designed to cover you throughout your recovery process, and that does not depend on your continued employment with your current employer unless they offered doctor-approved light-duty work and you refused. In situations where they fire you outright, the light-duty work option obviously did not occur.
Retaliation by employers against employees who file for workers' comp is explicitly protected against by South Carolina law. If this is what happened in your case, a South Carolina workers' compensation lawyer can help your case, offering legal representation and legal advice that can help protect your rights as a worker in the state.
Why Our Clients Choose HawkLaw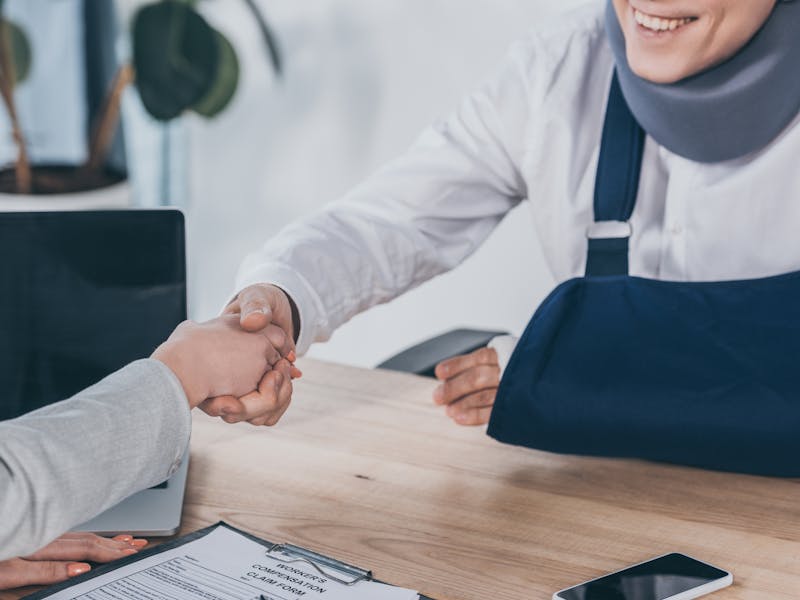 At our law firm, HawkLaw pursues a highly proactive attorney-client relationship dedicated to helping you with your case, whether it is fighting against insurance companies or employers. Our personal injury lawyers fight to win, and testimonials from our past clients show how we can help throughout Columbia, Greenville, Myrtle Beach, North Charleston, Spartanburg, and beyond.
Client Testimonials
"Excellent and professional service! Each and every person I have been in contact with in the law firm, HAWKLAW treated me with the utmost personal kindness and understanding!…I would certainly recommend Ivey and her team to those looking for help and advice.  Thank you again HAWKLAW for going the extra mile…" – E.C. *
"My experience with HawkLaw was nothing but outstanding!!  The legal team is very professional, caring, and is always in contact with you on updates and concerned with your well-being.  I am grateful and so glad that I chose HawkLaw.  This group truly lives up to its name.  "Hawk Law Fights"" – S.P. *
Help After an On-the-Job Auto Accident in South Carolina
Fortunately, when you've been through a car accident at work in South Carolina, you don't have to deal with the aftermath alone. Instead, speak to a lawyer from HawkLaw. Our attorneys understand how serious car accidents can be, and we know how devastating it can be when you're denied the workers' compensation you need.
When you're struggling with your car crash claim, reach out to us for assistance, starting with a free consultation.* We can be reached at 1-888-HAWK-LAW (429-5529) or through the online contact form.
Meta: Learn what to expect if you experience a car accident at work in South Carolina, and discover how a lawyer can help protect your rights.
---