South Carolina
Slip-and-Fall Accident
Slip-and-Fall Injury Attorneys: Lifting You Up

4.8 Average on Google
Slip-and-Fall Accident Lawyers in South Carolina
web team: photo
We enter other people's homes and businesses daily but rarely think about our safety there. We trust that the businesses, homes, and stores we enter will be safe, but what if they are not?
What if you trip on poorly maintained stairs and hit your head? What if you slip on a spill that a store worker did not bother to clean up, and you break your arm? According to the National Safety Council, falls accounted for approximately 13.5 percent of all preventable deaths in South Carolina in 2021.
You have the right to hold negligent people accountable when they cause you injury by filing a claim for the personal injury you sustained and its resulting damages. Contact HawkLaw, P.A. for help with your claim from an experienced South Carolina premises liability lawyer.
Have you been Injured?
We're Ready to Fight for You
Get Your Case Started Immediately. We'll Be There for You. Anytime. Anywhere.
Premises Liability Law in South Carolina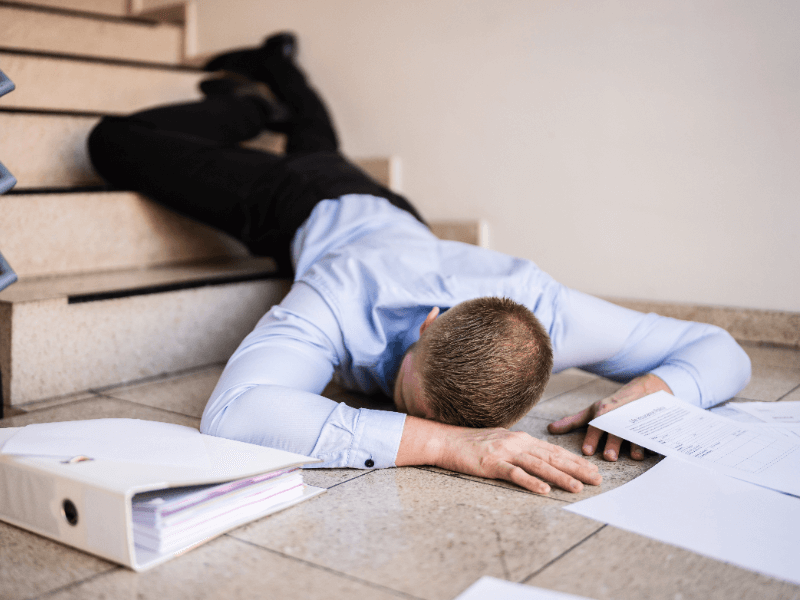 Slip-and-fall accidents fall under the category of premises liability.
First, you must demonstrate that the property owner owed you a duty of care. Next, you must demonstrate that the property owner breached their duty of care. Whether you can establish that the property owner owed you a duty of care is often the biggest question in your premises liability case, and it is the question that is the most complicated to answer.
Finally, you must show that their failure to address the danger caused your injuries.
Your South Carolina premises liability attorney must determine how your slip-and-fall accident occurred and who is liable for it. Not every accident is the property owner's fault, so proving negligence is important to your case.
For example, if you trip over your own feet while walking down a grocery store aisle, that will not be considered negligence on the part of the grocery store. However, if you trip over some debris left out in an aisle, you may be able to prove negligence, depending on the circumstances.
You may have a right to file a claim against a negligent property owner after a slip-and-fall injury because they breached their standard of care or failed to properly warn you about the dangers of their property. Your injury has likely left you with economic and non-economic damages. You deserve full compensation for how your injury has affected your life and happiness.
If you believe you were injured because of a property owner's negligence, contact a South Carolina premises liability lawyer at HawkLaw. Schedule a free case consultation* by calling us at 1-888-HAWK-LAW (429-5529) or submitting the online consultation form below.
Defining Slip-and-Fall Accidents in South Carolina
Slip and fall accidents occur when someone trips or slips on a surface that is slippery, loose, wet, or otherwise dangerous and falls to the ground. These types of accidents can result in a wide variety of injuries. These include head injuries, traumatic brain injuries, neck injuries, spinal cord injuries, and other injuries like muscle tears and broken bones. You have the right to pursue compensation when these accidents happen to you.
Unfortunately, the insurance company often seeks reasons to avoid paying you the settlement you deserve. This is why having experienced slip-and-fall lawyers like HawkLaw in your corner is so important. If you have fallen and suffered a serious injury due to hazardous conditions that should not have been there, contact us at 888-HAWKLAW or via our online contact form to get a free case evaluation* and help with your slip-and-fall case. At HawkLaw, we fight to win.
What are the Common Causes of Slip-and-Fall Accidents?
A wide range of unsafe conditions can result in slip-and-fall accident cases. These include the following.
Loose or broken handrails
Loose or torn carpeting
Large cracks, potholes, or spills in a parking lot
Poorly maintained escalators
Bad lighting in a hallway, bathroom, or other room
Loose or poorly maintained walkways
Spills in a restaurant or grocery store
These and many other conditions can result in injuries leading to expensive medical bills and the potential for a premises liability case. If you have been injured in a slip-and-fall accident and think you have an accident case, contact a South Carolina personal injury attorney immediately for a free case review.*
What are the Common Injuries and Symptoms From a Slip-and-Fall Accident?
Slip-and-fall injuries in premises liability claims are widely varied and unique. While every case differs, some injuries commonly occur in premises liability claims.
Slip-and-Fall Injuries
Common injuries from slip-and-fall accident cases include:
Facial injuries
Traumatic brain injuries
Broken bones
Neck injuries
Back and spine injuries
Cuts, lacerations, contusions, and bruises
Strains and sprains in wrists, shoulders, elbows, knees, and ankles
Chronic pain that sometimes radiates with no apparent source. This can be indicative of nerve damage.
In the worst and most tragic cases, wrongful death
Symptoms From Slip-and-Fall Cases
The symptoms of a slip-and-fall injury can vary depending on the severity of the injury. Certain symptoms can indicate a serious problem and require immediate medical attention. If you experience severe pain, dizziness, or obvious swelling, immediately see a doctor. Always get medical attention if you hit your head, as concussions are very dangerous and can take some time to present symptoms.
Other common symptoms from a slip-and-fall accident include:
Pain
Swelling
Bruising
Tingling or numbness ("pins and needles")
Loss of function in a limb
Headaches
Dizziness
Weakness
Nausea
Vomiting
Any time you experience adverse symptoms after an accident, you should seek medical attention. This is vital to keep your potential injury from getting worse. It also creates a medical record that will be crucial evidence for legal action.
What Should You Do After a Slip-and-Fall Injury in South Carolina?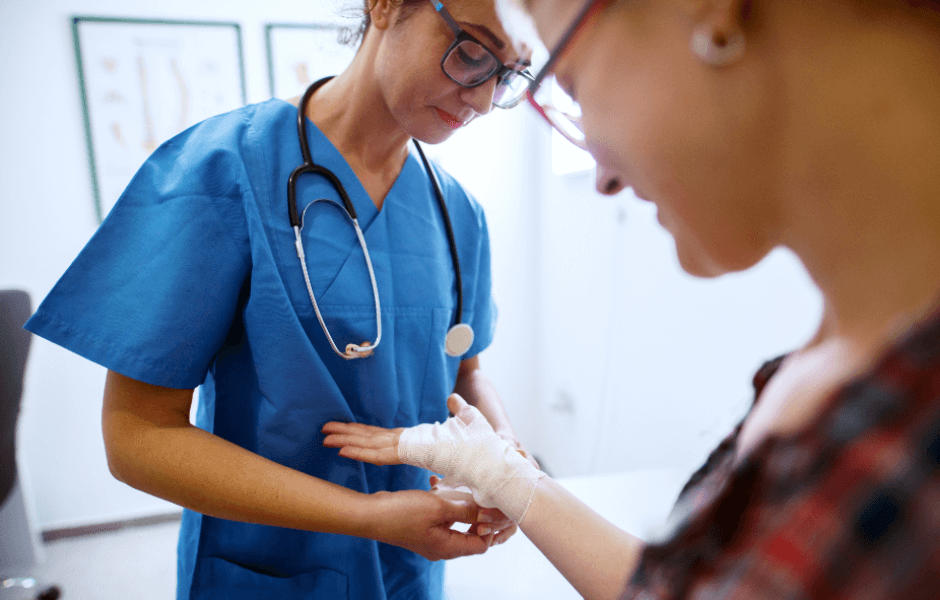 If you are involved in a slip-and-fall accident, it is important to take the right steps immediately. First, assess your injuries. If you are injured, even if you think it is minor, seek medical attention immediately. Next, document the accident. Take photos of the scene, focusing on any hazards that contributed to your fall and resulting injury. Then, get the names and contact information of witnesses willing to speak about what they witnessed.
You should also report the accident to the property owner, property manager, or primary resident if it occurred in someone's apartment or home. Businesses may have you file an incident report. Be careful not to sign anything before speaking to an experienced slip-and-fall accident lawyer. A South Carolina personal injury attorney can protect you from making costly mistakes and help you understand your legal options and rights.
You may hear from the insurance company within a day or two after the accident. It is best not to make any statement to the insurance company. Instead, immediately direct them to your attorney. Signing anything can cost you your rights to greater compensation down the road.
What is the Statute of Limitations to File a Slip-and-Fall Lawsuit in South Carolina?
In South Carolina, the statute of limitations for a slip-and-fall lawsuit is normally three years from the accident date.
This statute of limitations can vary if the fall occurred on government or publicly owned property, or if the victim was a child. Speak with an experienced South Carolina slip and fall injury attorney to understand your options and the time frame for your injury case. If you wait too long to file, you could lose your rights to compensation.
Obtaining Fair Damages for Your South Carolina Slip-and-Fall Accident
The compensation you may be entitled to includes money for your hospital bills, the suffering you have experienced, and other non-economic damages. Our experienced slip-and-fall attorneys will help you calculate the accurate value of your claim and strive for the compensation you deserve.
Below is a list of possible damages you could have suffered from a slip-and-fall accident in South Carolina.
Pain and suffering
Lost income and lost earning potential
Scarring or disfigurement
Permanent injury
Mental and emotional suffering
Lost life enjoyment
Medical expenses
What are the Benefits of Hiring a South Carolina Slip-and-Fall Accident Attorney?
A simple fall can lead to serious injury in particular circumstances. You could be badly injured, require extensive medical care, and be unable to function in your day-to-day life for months on end. It is even more traumatizing when an accident is not your fault.
That is why you should not have to build your case alone. There are many benefits to hiring a personal injury attorney with experience in slip-and-fall cases. At HawkLaw, we can help you understand your legal rights and options while protecting you from costly mistakes like signing the wrong insurance paperwork. We can help investigate the cause of the accident to establish liability and gather important evidence to support your claim.
Your HawkLaw injury lawyer can take over negotiations and communication with the insurance company to give you the peace of mind to focus on recovery. We know how to calculate the damages you deserve and will represent you in court if doing so is likely to benefit you. HawkLaw fights to win, and we will fight for you every step of the way.
As a digital-first law firm, you can initiate your case immediately via a free consultation* so we can start fighting for you. Call 888-HAWKLAW today or use our live chat, and we'll get to work right away!
How Do You Find a Good South Carolina Slip-and-Fall Accident Lawyer?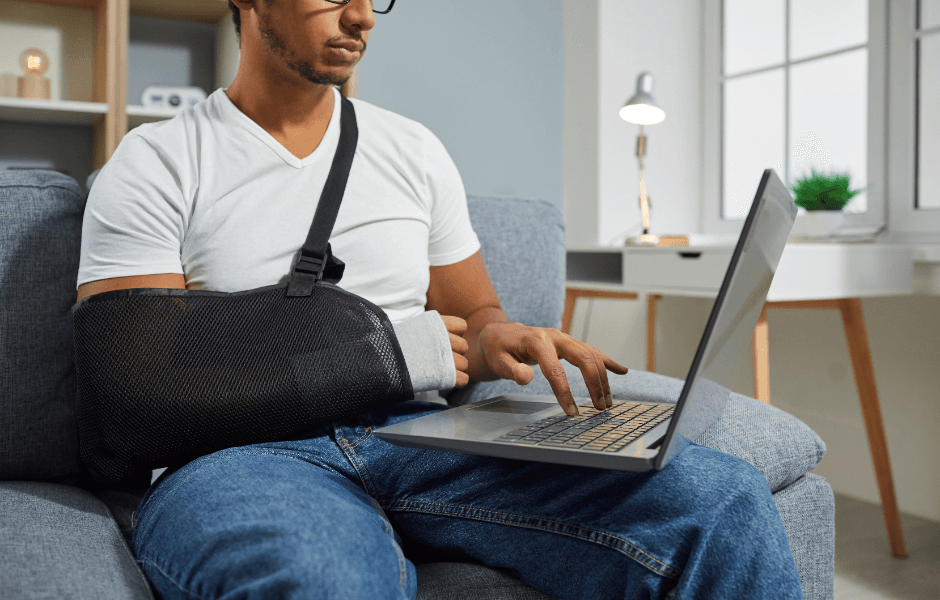 When choosing your South Carolina personal injury attorney to deal with a slip-and-fall lawsuit, you should always consider several factors. These include the following.
Experience
How experienced is your attorney in dealing with slip-and-fall injury claims? Do they have a track record of winning cases of this nature? South Carolina law can be complex, and not every personal injury attorney knows how to handle the specific issues associated with fall injuries.
Referrals
See if you know anyone who can recommend a slip-and-fall attorney or premises liability lawyer, and ask any prospective attorney to give you references and testimonials. If an attorney cannot back up their work, that is a red flag.
Cost
How do lawyer payments work? What is their charging structure for attorney fees? Do they offer free consultations* to accident victims? Do they work on contingency? Understand exactly how you will pay before you agree to anything.
Exercising basic caution can help prevent fall accidents. If you notice potential hazardous conditions when visiting a friend, store, or any other business or service, immediately report these to the premises, business owner, manager, or resident. Always use handrails when you climb or descend stairs. Turn on the lights when entering a room. Wear slip-resistant shoes.
If you are the owner or manager of a property, always keep walkways clear of tripping hazards, and be sure your rugs, carpets, and floor mats have no wrinkles or bunches and lay flat. When using a ladder, open it fully and lock it. Place it on a flat, nonslip surface, and wipe anything slippery off the ladder before using it. In addition, be sure you stay within the ladder's weight limit.
Don't Let Your Case Slip Through the Cracks
No injured person should have to go it alone while the insurance company does everything it can to avoid paying out a slip-and-fall claim. At HawkLaw, we take great pride in the trust we build with our clients, and we have represented clients throughout South Carolina, from Columbia to Charleston, Rock Hill, Myrtle Beach, and beyond.
If you or a loved one has suffered a serious injury in a slip-and-fall accident, you may be entitled to significant compensation for your medical expenses, lost wages, and pain and suffering. Contact us at 888-HAWKLAW or use our online form for a free initial consultation* with a member of our client services team today. You focus on the fight to recover while we fight for your compensation.
---