South Carolina
Boating Accidents
HawkLaw Fights to Get You the Money You Deserve!

4.8 Average on Google
Boat Accident Attorneys in South Carolina
Boating can be a fun recreational activity for you and your family. Fishing, swimming, or cruising around the local waterways can make for a relaxing summer day. At least, it can until something goes wrong. Someone else caused a boat accident, and now you're suffering for it.
According to the 2021 Coast Guard Recreational Boating Statistics Report, there were 184 South Carolina boating accidents that year, with 18 deaths and over $1.7 million in property damage. If your day on the lake turned dangerous, a South Carolina boating accident lawyer can help you recover. At HawkLaw, P.A., we understand how challenging your boating crash lawsuit can be, and we're ready to help with your recovery.
Have you been Injured?
We're Ready to Fight for You
Get Your Case Started Immediately. We'll Be There for You. Anytime. Anywhere.
What is a Boating Accident?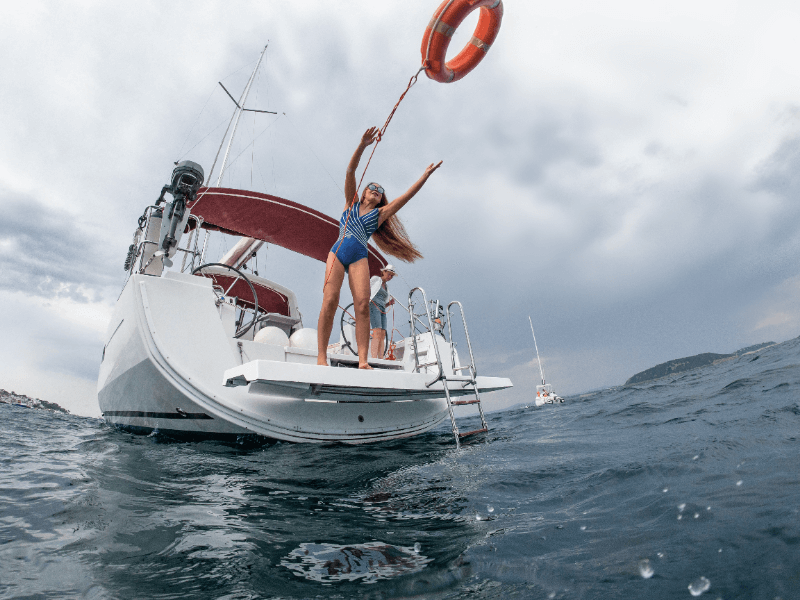 These are just a few of the most common types of boating accident cases that our injury lawyers have handled:
Collision with another boat
Collision with a fixed object
Flooding or swamping
Grounding
Falls overboard
Skier mishaps
Collision with submerged objects
Ejection from the vessel
Fuel fires and explosions
What are the Causes of Boating Accidents?
The cause of any maritime accident must be considered when determining the value of your compensation. Some of the most common causes of boating accidents that law firms see on a regular basis include the following:
Operator error. This includes mistakes made due to inattention, distraction, or even drunk driving. Alcohol use, in fact, is the leading factor among boating fatalities, according to the 2021 Recreational Boating Statistics Report from the U.S. Coast Guard.
Operator inexperience. Training and experience are everything when operating watercraft. Inexperienced boat operators are prone to errors, from making poor judgments to not properly gauging distances, forgetting to check a gauge, and other rookie mistakes.
Speeding. Just as with car accidents, when maritime vehicles exceed safe speeds, they become difficult to control, steer, and stop. Speeding is a major cause of collisions, especially recreational boating accidents involving watercraft like speedboats and jet skis.
Mechanical failure. Most boats involve many complex electrical and mechanical systems, from radar and sonar to gauges and even the engine itself. When one or more of these parts fails, disaster can result.
Weather conditions. Bad weather can appear seemingly out of nowhere on the water. A sudden storm or squall can spell disaster, especially for inexperienced operators.
Wildlife. Birds, large sea life, and the like can present risks to maritime vessels and their crews. From shark bites to diving gulls, any number of wildlife encounters can be dangerous, resulting in serious injuries or even death.
Improper lookout. Whether from fatigue, distraction, or simple operator inattention, failure to keep a proper lookout for hazards can lead to catastrophic injuries at sea.
Common Boating Accident Injuries
Some of the most common boating accident injuries seen by boating accident personal injury lawyers include the following:
Lacerations. Whether it's a major gash along your leg from a shark bite, or a slash down your arm from a broken rigging, lacerations (cuts) can cause severe blood loss and nerve damage.
Broken bones. Broken bones often result from falls on slippery decks, but they can also occur when heavy equipment shifts or falls on the victim.
Sprains. Sprains occur when the ligaments of a joint — usually the ankle, wrist, or shoulder, though any joint can be sprained — are twisted violently, resulting in a strain that makes the joint painful and weak.
Burns. Because commercial boats have a lot of heavy mechanical equipment, and smaller recreational boats often have gas engines, burns from the machinery can happen. Fires can also break out from fuel spills, leading to severe burns.
Head injuries. Concussions and traumatic brain injury, or TBI, should always be taken seriously, and any time you hit your head, you should immediately seek medical attention from a healthcare professional. These injuries can lead to lifelong complications and extensive medical expenses.
Spinal cord injuries. Your spinal cord is the communication highway for your body. If you damage the nerves that run down your back, you can experience any number of symptoms, from phantom pain to loss of limb use and even complete paralysis.
Amputation. When limbs are severely damaged enough, they may need to be removed to protect the body from further damage. In some cases, severe accidents can result in the direct loss of a limb.
Hypothermia. Hypothermia occurs from prolonged exposure to extremely cold temperatures. It can result in nerve damage, loss of limbs, and even death.
Internal organ injury. Bruises, tears, cuts, and other damage to your internal organs can result from stabs or blunt force to the body. These injuries can be difficult to detect, so it is essential to get looked at by a medical professional immediately after a maritime accident.
Drowning. Roughly 85 percent of all drowning deaths in 2020 occurred because the victim was not wearing a life jacket. Safety gear is essential when working on a waterborne vessel.
Death. Wrongful death cases are some of the most tragic results of boating accidents. When you lose a loved one to carelessness on the part of a boat operator or crew, you may be entitled to significant compensation for your loss.
If you or a family member have experienced these or any other injuries, contact HawkLaw at 888-HAWKLAW or through our online contact form to schedule a free case evaluation*, legal advice, and guidance today.
What Should You Do if You Are in a Boating Accident?
When you are involved in a boating accident, there are certain steps you should immediately take to resolve the issue. The first and most important thing is, keep your wits about you. Do not get angry or accusatory, do not panic, and do not apologize for anything at the scene of the accident. Beyond that, do the following:
Check That Everyone is Safe
Stop the boat and check to see if anyone is injured. Also, take a look to see if anyone has gone overboard. Is everyone wearing a life jacket, and can you get life jackets to those who are not?
Call for Help
Immediately radio the authorities. Let them know what happened and where you are, and report any injuries. This will enable them to get you the aid you need, including help for those who are in need of medical care.
Get Medical Attention
When help arrives, make sure everyone gets looked at by medical professionals. Even if you do not feel hurt, it is vital to get medical treatment. Many injuries can take days or even weeks to show symptoms. Getting an early diagnosis can prevent an injury from getting worse and can be important for your personal injury case.
Document the Accident
Gather important information like the number of boats, the number of passengers and crew involved, and the contact information of all of those involved. Document the circumstances of the accident — the time, place, and date as well as what happened. Take pictures of any injuries and damages that you can.
Report the Accident to the Coast Guard
Under U.S. maritime law, you must report any accident on bodies of water to the U.S. Coast Guard if damages exceed $2,000, a boat was lost or destroyed, any medical assistance beyond basic first aid was required, or anyone died. Failing to do so could subject the boat owner or operator to criminal penalties.
Contact a Boating Accident Attorney
If you were injured or your boat was damaged or lost in the accident, a personal injury attorney with practice areas in maritime accidents can be a valuable ally. They can help guide you through the insurance claims process to get your medical bills paid, your property replaced, and navigate any potential legal complications should legal action be necessary.
Report It to Your Insurance
If you own one of the boats involved in the accident, you should report the accident to your insurance company immediately. Many insurance policies require prompt reporting of accidents, and failure to do so could be costly.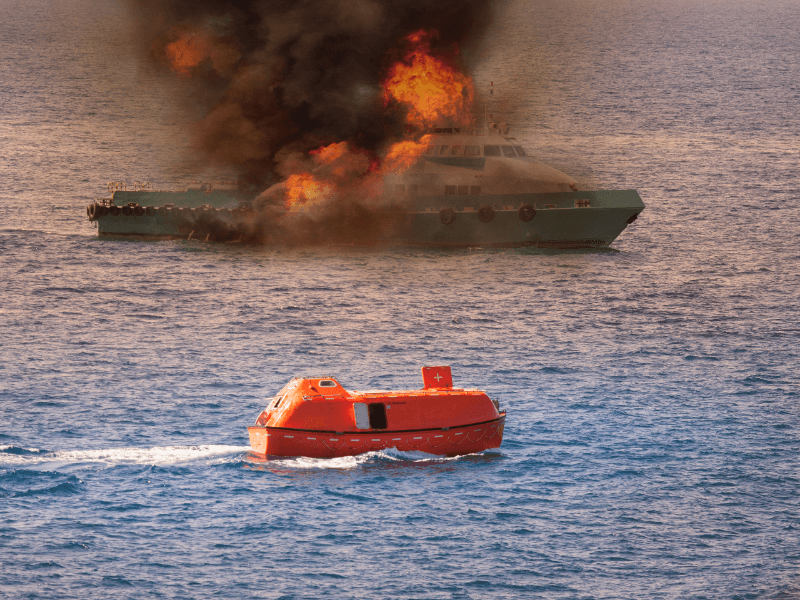 Who is Liable in a South Carolina Boating Accident?
If you are involved in a boat accident, it's important to determine the person who caused it. This person may have been careless and unfocused on protecting others. When that happens, they may be held responsible for the injuries they caused through a South Carolina personal injury claim.
Often, your accident may be the fault of another boater. For example, they may have been distracted, untrained, or even boating under the influence. If this is the case, you may need to file a claim against the other boater and find evidence showing that they were drunk, distracted, or even speeding.
However, not every accident is the fault of a boater. You may have been injured because a critical part failed. In these cases, you may need to file a claim against the manufacturer responsible for ensuring their products are safe. If you're unsure who to file against, your lawyer can help guide you.
Collision
Under South Carolina law, if the accident involved a collision with another boat, one or both operators may be liable depending on the circumstances. If both were partially responsible, you may be able to pursue damages against both boat operators.
Mechanical or Equipment Failure
The boat's owner, driver, or mechanic may also be responsible. If the incident involved faulty parts, the manufacturer may be liable as well. If a loved one dies because of inadequate safety devices on board, you may be able to sue the boat owner for wrongful death.
Slip-and-Fall
If you fell because of a poorly maintained deck or a collision with another boat or object, you may be able to hold the boat driver or drivers liable for your injuries. In general, those responsible are determined situationally based on the specific cause of the slip or fall.
Compensation for South Carolina Boating Accident Victims
Once you've found the person responsible for your suffering, it's important to know your claim's worth. Your recovery may depend on the compensation you receive for your claim. That means a mistake could cost you part or all the funds you need to recover after your boat crash.
You might first be concerned about your economic losses. Your boat might be totaled, which is a serious expense for you and your family. You might also have expensive hospital bills from treatment for head injuries, near drowning, or broken bones, as a few examples. Fortunately, your boating accident lawyer can help you total these losses and estimate any future financial losses from the accident.
Your non-economic losses are just as significant. These losses cover the mental suffering you've experienced, including emotional trauma and pain and suffering. However, these damages are intangible, making them harder to calculate. Fortunately, your lawyer should have the tools to calculate your claim's full worth.
Benefits of Hiring a South Carolina Boating Accident Attorney
A boating collision can be dangerous or even deadly. Unfortunately, you might now be juggling severe injuries and a lawsuit, which won't be easy. Fortunately, the right lawyer can take some of that pressure off you.
Your experienced South Carolina boating accident lawyer from HawkLaw can help you in many ways. After your initial case review, we can collect evidence, determine the total value of your economic and non-economic damages, communicate with insurance companies, and fight for you in court if necessary. We will be a valuable ally in your fight to get well, providing advice on getting necessary medical care and offering a compassionate and caring attorney-client relationship.
We have represented clients from all over the state of South Carolina, from Myrtle Beach to Columbia, Charleston, and beyond. Check out our testimonials from satisfied clients to see how we can help you.
What to Expect in a Boating Accident Lawsuit
Every boating accident lawsuit is unique, but for the most part, they follow a similar process. The steps you can expect are as follows:
Initial Consultation
We will provide a free consultation* to determine if you have a case. During this review, we will give you some initial legal advice and gather information regarding what you have already done or have not done that should be done.
Investigation of the Accident
Next, we will gather evidence and information to build your case. This involves determining the cause of the accident and determining who was at fault. If you bear any responsibility, we will need to understand that as well as part of the case.
Documentation of Injuries and Losses
We will also gather your medical bills and medical expenses. We will speak to your doctors, and gather information about your job so we can assess how much you have lost in terms of wages. We will estimate the value of any property loss you have suffered, and finally, we will put a value on your pain and suffering and other non-economic damages.
Settlement Negotiation
We will communicate with your insurance company to reach a fair settlement. This is often the most time-consuming part of the case, as they will continually counter with lowball offers or refusals until, hopefully, we come to a middle ground that satisfies everyone.
Possible Court Trial
Most cases are resolved through negotiations. Sometimes, however, negotiations fail, and we cannot reach a settlement. In this case, we will have to go to trial. Be assured that if this happens, we will stand by your side the whole way, advocating for your right to full and fair compensation.
We'll Navigate Your Case With You
If you're struggling to face your South Carolina boating injury claim, you may need the guidance of a lawyer from HawkLaw. We know how tough a lawsuit can be, which is why we offer free case reviews.* That way, you know what to expect from your claim.
Ready to begin? Your South Carolina boating accident lawyer is ready to help. Just call us at 1-888-HAWK-LAW (429-5529) or complete our convenient online form.
---