South Carolina
Truck Accident
HawkLaw Fights to Get You the Money You Deserve!

4.8 Average on Google
South Carolina Truck Accident Attorneys
Semi-truck accidents are devastating, but our team of compassionate lawyers will Fight to Win fair compensation so you can focus on what matters to you. We won't rest until you get the settlement you deserve. Simply talk to us using our live chat or call 888-HAWKLAW and our team will get to work.
HawkLaw Truck Accident Lawyers Are Determined To Fight For Your Right To Compensation
The majority of 18-wheeler truck crashes in South Carolina are preventable, but motorists in other vehicles often have little to no control over whether a semi-truck crashes into their vehicle, causing catastrophic harm. It's important to understand how and why these accidents with commercial vehicles occur, and what victims of large truck accidents can do to protect their own interests in the aftermath.
When you are in an accident with a tractor-trailer, you need a truck accident lawyer who can fight to win and get you the compensation you deserve. You need a law firm in your corner that will fight against the trucking company, insurance companies, and other parties to make sure your truck accident claim is taken seriously.
The Federal Motor Carrier Safety Administration has stringent regulations in place to prevent accidents with big rigs, yet they still occur all across the country in large numbers. Our truck accident attorneys will fight to protect your interests, secure fair compensation, and support your health and well-being. To get started, look for a free consultation* with a South Carolina truck accident lawyer. HawkLaw fights to win! Call us at 888.HAWK.LAW now so we can fight for you!
Have you been Injured?
We're Ready to Fight for You
Get Your Case Started Immediately. We'll Be There for You. Anytime. Anywhere.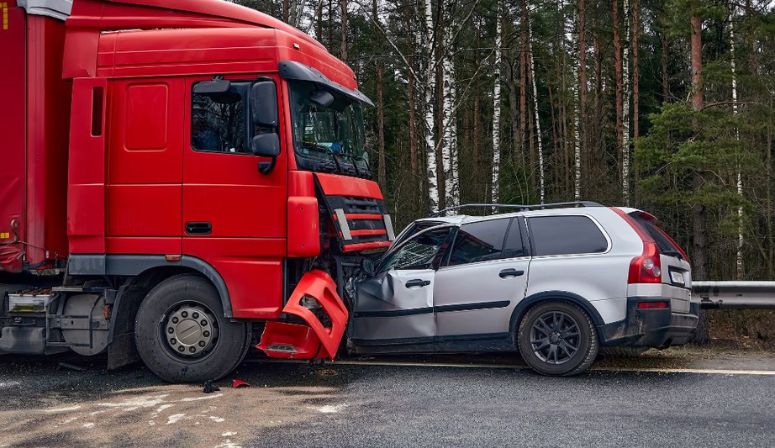 Why Choose HawkLaw's Truck Accident Attorneys
Our experienced team of Charleston truck accident lawyers has helped many clients receive significant compensation for their injuries. We will use fierce tenacity to fight for significant compensation in your truck accident claim. We are ready to fight for you.
Our team is more than just South Carolina truck accident attorneys; we want to help get your life on track again. Truck accident cases can be devastating, far more than other types of car accidents. Medical bills can mount, and you may have difficulty maintaining normal relationships with your closest loved ones. You deserve compensation for the serious injuries you or a loved one have suffered. To secure the right verdicts, you need an experienced South Carolina truck accident lawyer.
We will work diligently and to the best of our abilities to get the fair and just compensation that will help you to restore your quality of life. We are South Carolina truck accident attorneys serving Charleston, Columbia, Greenville, Spartanburg, and surrounding areas that will fight for your rights every step of the way.
As a digital-first law firm, you can get an immediate consultation on your case so we can start fighting for you. Call 888.HAWK.LAW today, use our live chat, or fill out our easy contact form and we'll get to work right away!
Common Causes Of Truck Accidents
Despite more stringent regulations by the Federal Motor Carrier Safety Administration, truck accidents continue to rise, and truck accident injuries can be catastrophic, far more than car accidents or other motor vehicle accidents.
According to the 2019 South Carolina Traffic Collision Fact Book, fatal accidents involving trucks increased. Fatal tractor-trailer accidents and accidents with other trucks and commercial vehicles in 2018 were up by more than 20 incidents from 2017.
An accident can happen at any time, and the causes can vary widely. To file your South Carolina truck wreck claim, you need to determine what exactly happened and who is at fault. This can be tricky, because truck companies, loading companies, maintenance crews, and even parts manufacturers can hold responsibility for the truck accident, and all will try to pass the buck. They may even accuse you of being responsible. That is why having an experienced truck accident attorney in your corner is so important.
If you're not sure what caused your commercial truck crash, our South Carolina truck accident attorneys can help. We will investigate the evidence and find the cause, which might be one of the following problems:
Drowsy and Distracted Driving
Driver fatigue is among the most common causes of tractor-trailer accident cases. Tractor-trailer drivers have a set time to work before they must take a break. However, their employers might provide an incentive for finishing routes earlier. This means there are truckers who have been on the road for far too long. That can lead to more mistakes and slower reaction times.
In addition, distracted driving is a problem among many passenger vehicle personal injury cases. Whether it's a case of a driver using a cell phone while behind the wheel or reading, eating, drinking, or even fiddling with the radio, any distractions stop the driver from paying full attention to the road, and even a few seconds can be deadly.
According to the National Highway Traffic Safety Administration (NHTSA), the normal reaction time to avoid a hazard is about 1.5 seconds. When you are traveling at 55 miles per hour, your vehicle moves 121 feet in that 1.5 seconds. Imagine taking your eyes off the road for that much time to look at a text message or play with the radio. The consequences can be, and often are, disastrous.
Driving Under the Influence
Driving while intoxicated is already dangerous. When semi-truck drivers are under the influence with a risk of jack-knifing, they place even more lives in danger. Truckers who cause an accident while under the influence deserve to be held accountable for compensation. While punitive damages are rare in motor vehicle personal injury cases, if the driver was under the influence, these damages may be on the table.
Road Hazards
While an 18-wheeler is less vulnerable than other vehicles to road hazards like potholes, road damage can cause an accident. When a government road authority doesn't ensure drivers' safety, victims can seek compensation.
Defective Vehicle Parts
Sometimes, vehicle parts like brakes or engine components are defective, and shoddy manufacturing can cause breakdowns at the worst times, which can result in a serious accident. In these truck accident cases, you can hold the manufacturer responsible for your injuries, and include them in a claim or civil lawsuit.
Simple Carelessness
Another common cause for truck accident claims is simple, basic carelessness. Sometimes truck drivers go too fast for the road conditions, ignoring speed limit signs or other signs directed toward trucking safety. They might just fail to check their mirrors or otherwise take careless action.
Blind spots can be another cause of accidents due to careless inattention. Trucks can have very long blind spots, or areas where their mirrors don't reflect. If the driver fails to carefully check these spots before changing lanes or veering for any reason, they can strike another passenger vehicle, causing serious injuries.
If careless driving caused your accident, your South Carolina truck accident lawyer at HawkLaw can fight to hold the driver responsible and get you the compensation you deserve for things like medical expenses, property damage, brain injuries, and other non-economic damages.
Frequently Asked Questions
---