South Carolina
Dog Bites
Dog Bite Attorneys: Protecting Your Well-Being

4.8 Average on Google
Dog Bite Lawyers in South Carolina
If you've suffered a dog bite or attack, let us Fight for You. Our lawyers will always fight for the compensation you deserve to treat the physical and emotional trauma of your attack. Call 888-HAWKLAW or talk to us using our live chat. We're here to help.
HawkLaw's Dog Bite Lawyers Pursue Financial Compensation For Physical And Emotional Trauma
Dog bites and dog attacks leave unsuspecting victims physically and emotionally scarred. The Centers for Disease Control and Prevention (CDC) estimates that 4.7 million dog bites happen annually in the U.S. We understand that it can take a very long time to feel safe and comfortable around an animal again following the trauma of an attack. As South Carolina personal injury lawyers, we have seen how injuries can take over a person's life.
That is why we will not let you go through this trying time alone. Our entire team is concerned with your well-being and will work tirelessly to get you the compensation that you deserve.  As a digital-first law firm, you can get your case initiated immediately so we can start fighting for you. Call 888.HAWK.LAW or reach us through our contact page today.
Have you been Injured?
We're Ready to Fight for You
Get Your Case Started Immediately. We'll Be There for You. Anytime. Anywhere.
Who Is Responsible For A Dog Bite In South Carolina?
Before you start your claim, you will need to determine who is responsible for your injuries and whether that person can be held responsible for a dog attack. Generally, a dog attack is the responsibility of the dog owner, with few exceptions.
In South Carolina, dog owners are strictly liable for their dogs' behavior. This means that it does not matter whether the owner should have or could have known that the dog might attack. If the dog does attack someone, the owner is liable for the victim's damages.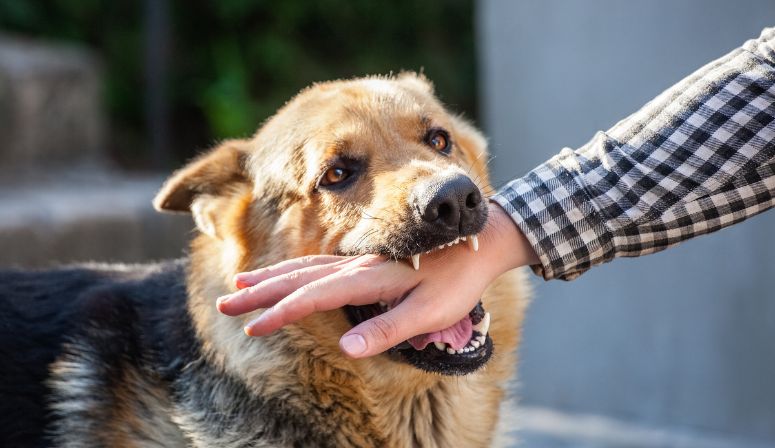 South Carolina Dog Attack Laws
Here's the thing about dog bite attacks in South Carolina: the laws state that the onus is on the victim to prove that the animal in question bit them. South Carolina is also among the states exempt from the "one bite rule," meaning the owner is still liable for injuries caused by their dog even if there's no history of the animal being violent.
However, one important caveat to note — dog owners are not liable for a bite if the animal is teased or provoked. To paraphrase an old saying, don't poke the dog.
What Is the Statute of Limitations for a Dog Bite Lawsuit in South Carolina?
Personal injury laws in South Carolina set a time limit for bringing a lawsuit, known as the statute of limitations. Since a lawsuit might be the last step after trying to reach a settlement with an insurance provider, it is important to retain personal injury attorneys as soon as possible after an accident or injury.
The statute of limitations for a dog bite claim in South Carolina is typically three years from the date of the injury. If you miss this deadline and then try to file a lawsuit, a judge will almost certainly dismiss it.
What Happens to Dog Bite Claims in the Case of Trespassing?
South Carolina dog bite law states that a dog owner may be liable for injuries caused by their dog when:
The injuries are the result of the dog biting or "otherwise attacking" someone;
The injured person was either in a public place or was lawfully on private property when the injury occurred
The outcome of a dog bite case may change if the victim was trespassing on the dog owner's property.
Premises Liability
Dog bite cases are based, in part, on the legal theory of premises liability, which holds a property owner liable, in some situations, for injuries caused by hazardous conditions on their property. The owner's duty is greatest towards people that they have invited onto their property. They must make reasonable efforts to ensure that their property is free from hazards that could cause injury.
The owner's duty towards a trespasser is much less, but not always non-existent. A property owner might have a duty to post a sign warning about a dangerous or potentially dangerous dog.
Who Counts as a Trespasser?
The term "trespassing" generally refers to being on someone else's property without permission or legal justification. The latter category is where some people misunderstand "trespassing." Some people may have a limited right to enter part of someone else's property without asking permission first.
A postal worker delivering mail might not have a property owner's express permission to be on their property, but they cannot do their job otherwise. They are not a "trespasser," because going onto other people's property is part of a service provided to property owners. People whose jobs involve going door-to-door have implied permission to go onto someone's property. They do not violate the law simply by walking up to someone's front door unless a homeowner has posted clear "no trespassing" or "no soliciting" signs.
These people's right to enter someone else's property is limited. A postal worker may enter someone's property for the specific purpose of delivering their mail. They can walk from the street to the mailbox, but they cannot enter the backyard or the home itself unless invited. If that happens, then they truly become "trespassers."
One other situation in which a property owner might owe more than the minimum standard of care to a trespasser involves a "discovered trespasser." This occurs when a property owner knows about ongoing trespassing but has neither approved of it nor made serious efforts to stop it. Suppose, for example, that someone has used a property owner's yard as a shortcut through a neighborhood. The property owner might have a duty to warn them if their dog has shown signs of aggression, or to make sure that the dog is secured in the house or in the backyard.
A Property Owner's Duty to a Trespasser
Unless a person meets the standard of a discovered trespasser, a property owner's duty to warn or protect them is minimal. The owner has few duties towards a burglar, for example. Even then, however, a property owner could be liable for intentional injuries to a trespasser, such as if a property owner directs their dog to attack an intruder who is trying to leave the premises.
How Much Can I Win in a Dog Bite Case?
The majority of dog bite victims settle their claims with dog owners, often through claims on an insurance policy. The Insurance Information Institute (III) reports that homeowners' insurance policies recently paid more than $686 million in a year to settle claims involving liability for dog bites and dog-related injuries.
Each dog bite injury is unique, and so are the damages in each dog bite case. The amount of damages that you might be able to expect will depend on the circumstances of the attack and the extent and severity of your injuries. You should consult with a South Carolina dog bite lawyer as soon as possible after the attack to make sure you have a full valuation of your losses.
You can recover economic damages for your measurable losses, such as:
Medical expenses;
Lost wages; and
Rehabilitation costs.
You may also be able to recover non-economic damages for losses that you have suffered, but which you cannot quantify quite as easily. These may include:
Pain and suffering due to injuries that cause nerve damage;
Disfigurement due to puncture wounds and other permanent scarring; and
Mental anguish caused by the above and other serious injuries.
If a family member or other loved one was involved in a fatal dog attack, you might be able to recover damages for wrongful death.
What to Do Right After a Serious Dog Bite
What you do after you have suffered a dog attack will affect both your health and your legal claim against the dog's owner.
1. Seek Medical Attention
Seek care from an emergency room or doctor as soon as possible. You may be at risk for various infections if you suffered any bites. If possible, take pictures of your wounds before seeking treatment. You may need these, as well as medical records and medical bills, as evidence in your case.
2. Exchange Information
You will need the dog owner's contact and insurance information in order to make a claim. You should also get contact information for any witnesses.
3. Notify Law Enforcement
The emergency room or doctor's office might contact law enforcement or animal control when they treat you. You should confirm this, and if they did not make a report, you should make one and ask for a copy of the paperwork.
4. Seek Legal Advice
You typically have three years to file a lawsuit, but the sooner you can get started on an injury claim, the better. Contact a personal injury attorney with experience in dog bite cases as soon as you feel ready.
Frequently Asked Questions
What do I do about dog-bite attack claims?
Dog bites can be very dangerous for your health if they are left untreated. You should immediately contact a doctor and seek medical treatment for a dog bite. You should also speak to the owner of the dog about the incident and announce your intentions to file a claim. You can also choose to report the incident to local animal services, but allow your conversation with the owner to dictate whether that step is necessary. Finally, contact a dog bite attorney to discuss options for how to press forward with your claim.
How do you handle a dog bite case?
A dog owner will likely try to challenge your claim by arguing, conversely, that the dog was provoked to attack. In South Carolina, dog owners may not be liable for dog bite injuries if the animal is teased or provoked towards an attack. That is why it is so important to hire an experienced dog bite legal firm, like
HawkLaw
, which also maintains a proven investigative team that collects evidence and reconstructs the circumstances of a case to help prove the merits of your claim.
Should I sue after a dog bite?
It's entirely up to you and the severity of the bite. You should speak to your dog bite lawyer about whether a full lawsuit is warranted for your case, or whether you should only press for a claim to cover the medical treatment and any psychological trauma incurred from the dog bite attack.
To request a free consultation*, call 888.HAWK.LAW or complete the
online contact form
to speak with an experienced
personal injury lawyer
at HawkLaw today. We have offices in Columbia, Charleston, Greenville, and Spartanburg to assist you with your case. Even if you live in areas that are not in the same cities as our offices, such as Myrtle Beach or Anderson, we will come to you to guide you through any legal issue you may have. Read our disclaimer below to learn more about a free case evaluation and how you can speak with our team now.