South Carolina
Bicycle Accident
Helping You Ride Towards a Peaceful Settlement

4.8 Average on Google
South Carolina Bicycle Accident Attorneys
Riding a bicycle is something we can all appreciate as far back as our childhoods. But it can be perilous if drivers are not cautious on the road. That's why we're here to Fight to Win and prop you back up in a fight for fair compensation. Simply call 888-HAWKLAW or talk to us using our live chat and our team will get to work.
HawkLaw's Bicycle Accident Lawyers Help You Hold Others To Account
One of the best ways to exercise and appreciate the great outdoors is to go on a bike ride. Bicycles are convenient ways to get around town, especially in larger cities with heavy traffic, and they're also more environmentally friendly modes of transportation. Yet, there is the potential for serious injury in the event you are ever involved in a collision with a motor vehicle. According to the National Highway Traffic Safety Administration, 846 cyclists were fatally injured in 2019 alone. The potential for serious injuries and even fatalities exists on South Carolina roadways, as well.
Unlike drivers, bicyclists do not have the protection of a full metal vehicle to shield them from injury. Cyclists only have the clothes they wear and the helmets on their heads, potentially exposing them to significant bodily injury or harm. Cyclists stand to take the brunt of injuries in a road accident, and you deserve to receive fair and equitable compensation for those injuries.
Have you been Injured?
We're Ready to Fight for You
Get Your Case Started Immediately. We'll Be There for You. Anytime. Anywhere.
Why Choose HawkLaw's Bicycle Injury Attorneys
HawkLaw fully stands behind the bicycle rules of the road that protect you and other cyclists from dangerous, reckless, or negligent drivers. Our experienced bicycle accident attorneys are immersed in South Carolina's bicycle laws, and we use that knowledge to always put you first and represent your interests to the best of our abilities in pursuit of fair and just compensation.
Everyone should feel safe enough to go out and ride a bike whenever they choose to do so. In the event that you are in a bicycle accident and become the victim of a personal injury, we want you to know that you do not have to face that experience alone. As a digital-first law firm, you can get your case initiated immediately* so we can start fighting for you. Call 888-HAWKLAW today or use our live chat, and we'll get to work right away!
Common Causes of Bicycle Injuries
Here are the most common causes of bike injuries.
Hit-and-Run Accidents
One of the most common causes of bicycle accidents is hit-and-runs. Drivers who are negligent or reckless hit a cyclist and drive away without stopping to check on the victim. The consequences of these incidents can be as serious as broken bones, head injuries, or spinal damage.
Hazards in the Road
Hazards that disrupt the flow of the road can be difficult to see, especially for cyclists. Also, since cyclists have little to no protection, hazards are very dangerous for them. Road hazards can be responsible for scrapes, cuts, lesions, and other injuries – similar to slip-and-fall accidents.
Road Rage
Drivers who succumb to road rage are among the most dangerous people on the road, according to one South Carolina Deputy County Sheriff. Cyclists are most at risk of dangerous road rage drivers due to the lack of protection on a bicycle.
Bicycle Equipment Malfunctions
Like any piece of equipment, bicycle frames, handlebars, pedals, and wheels all have a useful shelf life. Though, if those materials malfunction long before they should, you could end up in a potentially dangerous situation that causes bodily injury.
Dog Bite & Chase Incidents
In some cases, a bicycle injury occurs when a neighborhood dog chases after you as you begin your ride. A rather large dog could knock you off the bike or cause a painful dog bite that requires medical treatment.
Can I Sue Someone for a Bike Accident in South Carolina?
A cyclist who suffered injuries in a bicycle crash involving a motor vehicle can sue the driver if they were at fault. A personal injury lawsuit might not be necessary, however, if you are able to recover damages from the driver's insurance company. Personal injury attorneys are often able to settle claims with insurers, saving their clients from having to go to court.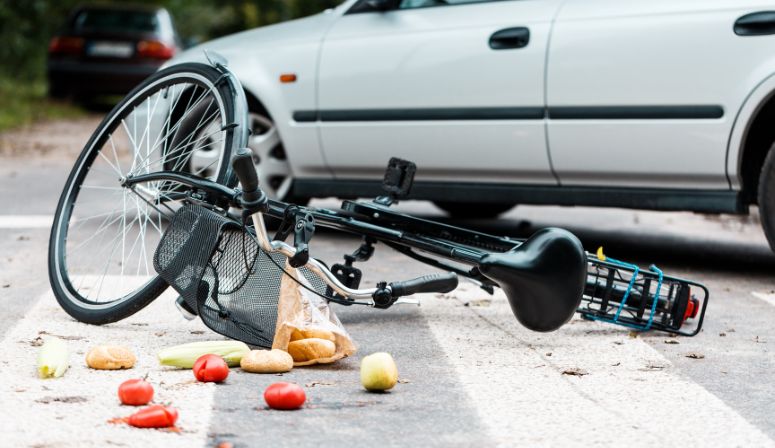 Are Bicyclists Ever at Fault in South Carolina?
Bicyclists and motorists are subject to the same traffic laws in South Carolina. Either could be legally at fault for an accident. Both bicycle riders and vehicle drivers must abide by right of way rules at intersections, for example.
Additional rules may specifically apply to bicycles. Cyclists may have to remain in bicycle lanes whenever possible. Reflectors and other safety equipment might be required when riding at night. Failure to abide by these rules could result in a cyclist being legally at fault if an accident occurs.
Will My Car Insurance Cover My Bicycle Accident in South Carolina?
If you are injured while riding a bicycle, your own car insurance is not likely to cover your injuries, although it cannot hurt to ask. Your injuries might be covered by provisions in a homeowner's or renter's insurance policy. Your other option is health insurance. In a bike crash involving a motor vehicle, the other driver's auto insurance policy should cover your damages as long as the driver was at fault.
What Should I Do Immediately After a Bicycle Accident in South Carolina?
You must move quickly to protect your rights after a bicycle accident.
1. Seek Medical Attention
Bicycle collisions can cause serious injuries, even when there are no fatalities. Traumatic brain injuries are common, and might not be apparent immediately after an accident. It is critically important to seek medical attention.
2. Call the Police
The police will investigate the accident scene and write a report, which could be useful in your legal claim.
3. Collect Evidence
If possible, take pictures of the accident scene and your injuries. Try to get the names and contact information of witnesses. Write down as much as you can remember about the circumstances of the accident.
4. Notify Your Insurance Provider
Your insurance policy might cover your injuries. You can review your policy to see about coverage options.
5. Seek Legal Advice From a Personal Injury Attorney
An attorney can advise you of your legal rights after an accident. They can also discuss your legal options with regard to recovering medical expenses and other damages.
We Know How To Get You Compensation For Your Bicycle Accident
Bicycle accident injuries can be severe and debilitating for both you and your loved ones. HawkLaw operates out of four offices in order to serve the entire state of South Carolina. That means even if you live in areas like Myrtle Beach, Sumter, or Rock Hill, you can still schedule a free case evaluation* with us. We will come to you. Contact a South Carolina bicycle accident lawyer to set up a free consultation* to discuss your case today.
Frequently Asked Questions