South Carolina
Product Liability
Helping You Claim Compensation for Dangerous Products

4.8 Average on Google
South Carolina Product Liability Attorney
Defective products can be incredibly dangerous. Let us Fight to Win by making a case for a defective product claim that fights for fair compensation for your injuries. Simply call 888-HAWKLAW or talk to us using our live chat, and our team will get to work.
HawkLaw's Team Of Product Liability Attorneys Work Hard To Prove Defective Products Are Responsible For Your Injuries.
Although manufacturers have a duty to provide safe products to consumers, mistakes nevertheless occur. When a defective product causes a personal injury, regardless of the type of negligence, you can bring a lawsuit against the party responsible for the defective product(s).
At HawkLaw, we understand how much of an impact a defective product can have on your livelihood. That's why our team of experienced product liability lawyers work diligently to collect evidence and prove that your claim deserves fair and just compensation for your injuries.
Have you been Injured?
We're Ready to Fight for You
Get Your Case Started Immediately. We'll Be There for You. Anytime. Anywhere.
Why Choose HawkLaw's Product Liability Lawyers
Negligent product manufacturers and distributors cause unnecessary bodily harm and injury to unsuspecting people who purchase those defective products. When these events occur, the manufacturers and distributors must be held accountable for causing painful events to disrupt your life.
That's why our team of diligent product liability attorneys pool together our investigative resources to build a case on your behalf. We work with you to collect evidence of wrongful harm to your life, and we use all of our skills to make a case for rightful compensation for your injuries. As a digital-first law firm, you can get your case initiated immediately so we can start fighting for you. Call 888-HAWKLAW today or use our live chat, and we'll get to work right away!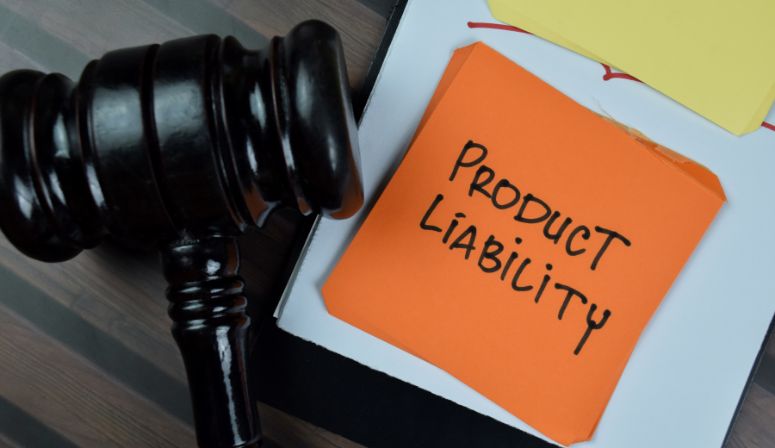 Product Liability Law
South Carolina has very clear product liability laws that lay out the rights of individuals and the responsibility of product manufacturers and distributors for defective merchandise that causes bodily harm.
One thing to keep in mind is that there is one key loophole that eliminates responsibility for bodily harm on the part of the manufacturer or distributor. If you discover that the product is defective, and choose to use it for whatever task you choose to do anyway, the responsibility for any injury is yours for willfully using a known defective product.
What is a Defective Product Under South Carolina Law?
A South Carolina defective product claim revolves around specific factors. The cause for the injury you suffer must be from one of three factors in our state. These include defective design, a manufacturing defect, or a critical failure in marketing.
Design defects include products that don't function as the designer and manufacturer say they should, even when used as clearly intended. If an item's core design can cause it to explode even when built according to exact specifications, it's a design defect.
Manufacturing defects refer to products that are properly designed, but during the production or manufacturing process, the introduction of a critical flaw occurs that puts users in undue danger. Medical devices intended to protect injured people but created using faulty or cheap parts so that they overheat during use have manufacturing defects.
Marketing defects cover products with known risks wherein the designer, manufacturer, distributor, wholesaler, retailer, and other parties involved do not provide adequate warnings for the products. Pharmaceuticals that do not warn users of all known potential side effects can be considered defective.
Defective Product vs. User Error
Before filing a product liability lawsuit, defective product lawyers need to determine whether the issue was a user error. If you had complete instructions on the proper intended use of a product but you didn't follow the instructions, you may not be able to file a product liability lawsuit.
On the other hand, if the instructions were not complete or precise, you may have a case. Failure to provide proper documentation for the use of a product can fall under product liability law. Call 888-HAWKLAW and speak with a qualified personal injury attorney for a free case evaluation*.
What Are the Different Types of Defective Products?
The types of products that can be considered defective can cover just about any product designed for consumer or professional use. Almost anything manufactured and distributed can fall under the umbrella of product liability law if it fits one of the three qualifications of defective manufacturing, defective design, or marketing defects.
You may be eligible for compensation if you or a loved one suffers a serious injury, property damage, or even death from a product that has unseen dangers or fails without warning. These products can range from pharmaceuticals to hair driers, appliances to automotive parts, heavy equipment to hair spray, and beyond. Contact your South Carolina personal injury attorney for a consultation to find out what your case may be worth.
At HawkLaw, our South Carolina personal injury lawyers represent clients from Charleston to Myrtle Beach, Greenville to Columbia, Florence to Orangeburg, all over the state. We are ready to fight for you.
Types of Damages from Defective Products
You may be eligible to collect many different types of damages from a product liability lawsuit. Exactly what your case might be worth is difficult to say without a free case review*. Still, in general, the types of compensation you may receive from any personal injury case are divided among economic and non-economic damages.
Economic Damages from Defective Products
Economic damages from defective products are easy to value. They include, but may not be limited to:
All of your doctor's and medical bills
Lost wages and loss of potential future earnings
Hiring necessary in-home help to accomplish daily tasks
Property damage
Funeral and burial expenses in wrongful death cases
Non-Economic Damages from Defective Products
Non-economic damages are harder to value because they are invisible injuries and subjective. They can include, but may not be limited to:
Pain and suffering
Emotional trauma
PTSD, mood swings
Loss of comfort, companionship, and consortium
Loss of enjoyment of life
How Long Do I Have to File a Product Liability Claim in South Carolina?
South Carolina has a three-year statute of limitations on personal injury cases. This means you have three years from the accident causing your injury to file your lawsuit. That's why it's vital to contact HawkLaw at 1-888-HAWKLAW for a case review right away.
For Legal Representation Against Manufacturers and Insurance Companies, Call HawkLaw
At HawkLaw, we take great pride in our honest and caring attorney-client relationship. Our law firm approaches every case with the deepest compassion, personalized attention, and legal advice, in addition to our willingness and ability to take cases to trial. We have served clients with legal issues all over South Carolina, including Charleston, Columbia, Greenville, Myrtle Beach, and Florence. Our practice areas include defective products, car accidents, workers' compensation, and other forms of personal injury.
If you or a loved one suffered severe injury or fatality due to product defects, please call our South Carolina defective product attorneys at 888-HAWKLAW or through our online form, and see our disclaimer for information about a free consultation with a product liability lawyer at our firm.*
Frequently Asked Questions
How do I prove a product liability claim?
In some product liability cases, companies bear the burden of proof to show that they were not negligent because the manufacturers owe a higher standard of care. In a product liability case, you only need to show that you suffered losses or injuries; the product has a defect or is potentially dangerous; and that the defect directly caused your injury while it was used for its intended purposes. This is called strict liability.
What if the product is defective and I don't use it?
The only way that you can prove a product liability claim warrants compensation is if the defective product directly contributed to an injury you sustained while using the product. If you discover a defect but choose not to use the product, there is no claim to be made.
---