Columbia
Slip and Fall Accidents
HawkLaw Fights for Columbia

4.8 Average on Google
Slip-and-Fall Lawyers in Columbia
If you've been injured in a slip-and-fall accident, you may be entitled to compensation for your losses because of the fall. Reach out for help from a Columbia fall injury lawyer if you're seeking compensation for your losses.
Ad Web Team: Photo
If you've been injured in a slip-and-fall accident, you may be entitled to compensation for your losses. Reach out for help from a Columbia fall injury lawyer for help seeking compensation for your losses.
When you're out on someone else's property, they must make their property safe for everyone. Whether that's a home you were invited to, an apartment complex, or a store, you should be safe from harm, within reason. That means, for example, placing warning signs, verbally warning you, or blocking off dangerous areas.
Unfortunately, the property owner may not have been careful with your safety, and now you've slipped and fallen. If this happens to you, contact a lawyer from HawkLaw. Your Columbia slip-and-fall lawyer can help you get the answers you need for your injury claim.
Slip-And-Fall Injuries Are Serious
If you're hurt in a slip-and-fall accident, you might be worried that your losses are not severe enough to count. You might think it was just a fall, so what compensation could come from it?
These accidents can be severe, and you could suffer serious injuries if you slip and fall.
For example, if your head hit the floor, you may have suffered a concussion, disrupting your life. You might have trouble with your memory and concentration, making work, school, and even daily tasks difficult.
Broken bones and spinal injuries are also common. These injuries can be painful, costly, and impactful in a long-term sense, so reach out if you have suffered any of these injuries or others in a slip-and-fall accident. You may be eligible for compensation that covers those injuries.
Common Slip-and-Fall Injuries in Columbia, South Carolina
Poor and unsafe conditions contribute to slip-and-fall injuries. From broken pavement to spills, loose tiles, and torn carpeting inside buildings, unsafe walking conditions could cause you to fall and get hurt. If the property manager, tenant, or property owner knew about or should have known about these issues and did not address the situation, they could be held responsible. Common injuries in slip-and-fall cases include, but may not be limited to, the following.
Traumatic Brain Injuries
Traumatic brain injuries (TBIs) are some of the most severe and difficult to prove injuries. They can change the entire life of the person who suffered them, often permanently. They are called invisible injuries because they can cause a wide range of symptoms with no easily apparent visible cause.
Symptoms from a TBI can include mood swings, emotional trauma, difficulty enjoying life, phantom limb pain, and more. Because your brain controls your entire body, you may experience problems ranging from loss of coordination to cardiovascular problems and even paralysis or wrongful death.
Broken Bones
Broken bones come in a wide range of severity. Hairline fractures cause sharp pain but tend to heal quickly. Clean breaks can heal in around six weeks. Compound fractures that pierce the skin can take up to 12 weeks to heal and may be followed by months of physical therapy and medical treatment, with some incidences leaving lifelong symptoms like limb pain, loss of strength, limping, and the like.
Fractured Hip
A fractured hip may heal completely or leave you with lifelong complications. The older the victim, the more risk a fractured hip poses. Personal injury cases involving fractures in the hip can be tricky, especially when injury victims have pre-existing injuries such as osteoporosis, which weakens the skeletal system. Your personal injury lawyer at HawkLaw can help you prove that your fall caused your injury and help you fight for the compensation you deserve.
Types of Accidents That Lead to a Slip-and-Fall in Columbia, South Carolina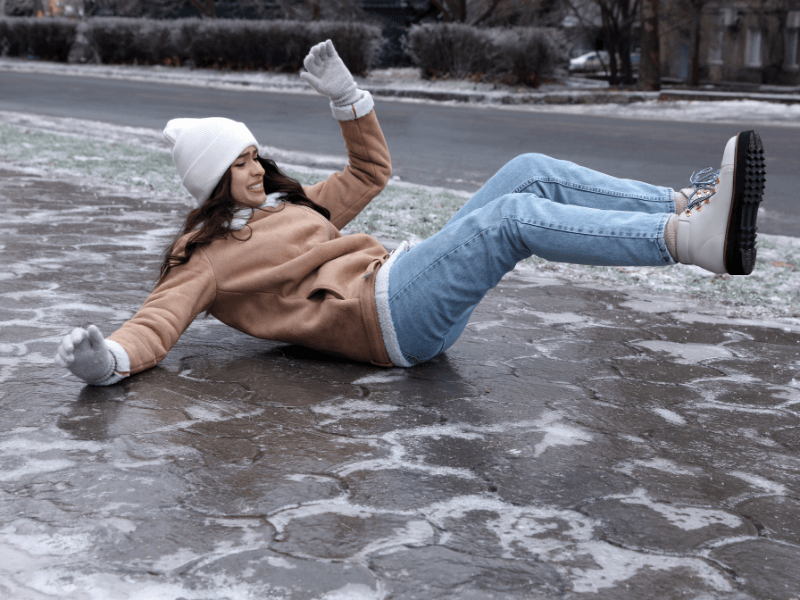 An individual can be harmed by a slip-and-fall in numerous ways. Hazardous conditions that can lead to injuries include poor lighting, cracks or holes in the pavement of parking lots, unmarked wet areas on the floor (leaving you unaware of the danger), broken handrails, damaged walkways, cracked tile, icy pavement, loose stairs, torn or frayed carpeting, and many others.
If you have suffered an injury on someone's property due to a dangerous condition that the responsible party should have addressed in advance, our experienced Columbia personal injury lawyers at HawkLaw are ready to help. Under South Carolina law, you may be entitled to significant compensation for your medical expenses, lost wages, and non-economic damages. Contact our law firm for a free case evaluation* and legal advice.
What is the Statute of Limitations for Slip-and-Fall Injuries in South Carolina?
In general, the statute of limitations for premises liability injuries is three years from the accident date. For wrongful death cases, it is three years from the date of death. However, it is important to remember that this may not be absolute, and exceptions do exist. While it is always best to file your lawsuit quickly, you may not be completely ineligible if you miss the statute of limitations.
It can be tricky to pursue a case that is beyond the three-year time frame, but if you have suffered broken bones, head injuries, or any other type of injury from a South Carolina slip-and-fall caused by a property owner's negligence, call HawkLaw at 888-HAWKLAW or use our online contact form. Our premises liability lawyers are ready to listen, and HawkLaw fights to win.
How Will My Past Medical History Affect My Case?
If your slip-and-fall accident exacerbated a pre-existing condition, your case will likely become more challenging. When this happens to you, your slip-and-fall accidents lawyer must prove that the fall caused more damage to the pre-existing injury. For example, if you already have a bad shoulder and file a slip-and-fall claim based on a shoulder injury, it will be essential to show that the fall injured the shoulder beyond the existing injury.
This is why it is so important to have the assistance of a Columbia personal injury accident attorney. We know how to structure arguments related to these complex legal issues and will fight for your right to compensation when the insurance company tries to avoid paying your claim.
Determining Liability for a Premise Liability Case in Columbia
Liability lies at the heart of almost every personal injury case. At its most basic, it means that someone violated a duty of care toward others by behaving irresponsibly or failing to behave responsibly. This irresponsible act led to an accident in which the injured person got hurt.
In a slip-and-fall case, several factors come into play to determine if liability lies with the property owner. First, did the property owner know about the unsafe conditions, or should they have known about them? Did they, in turn, fail to address the danger by not repairing them or warning the guests of a hazard? Alternatively, was there a failure of routine maintenance that caused the property to be unsafe? If any of these conditions apply, a Columbia slip-and-fall attorney may be able to fight for fair compensation to cover your medical bills, lost wages, pain and suffering, and other damages.
How to Win a Case for Slip-and-Fall
Winning a South Carolina slip-and-fall case means you must prove that your injuries occurred due to property owner negligence. This proof can come from a variety of sources. The strongest evidence includes witnesses to the incident and video evidence such as surveillance footage.
In the case of indoor accidents, such as at a restaurant or hotel, often the business will have security cameras. If you get hurt outside, it may be possible for your slip-and-fall accident lawyer to secure footage from parking cameras or other cameras surrounding the area that may have captured the incident. If you do not have witnesses or footage, we may be able to take other avenues.
Never assume that you do not have a case. If you, a family member, or another loved one has been hurt due to someone else's negligence, contact a Columbia personal injury attorney to discuss your case right away.
Compensation For Columbia Residents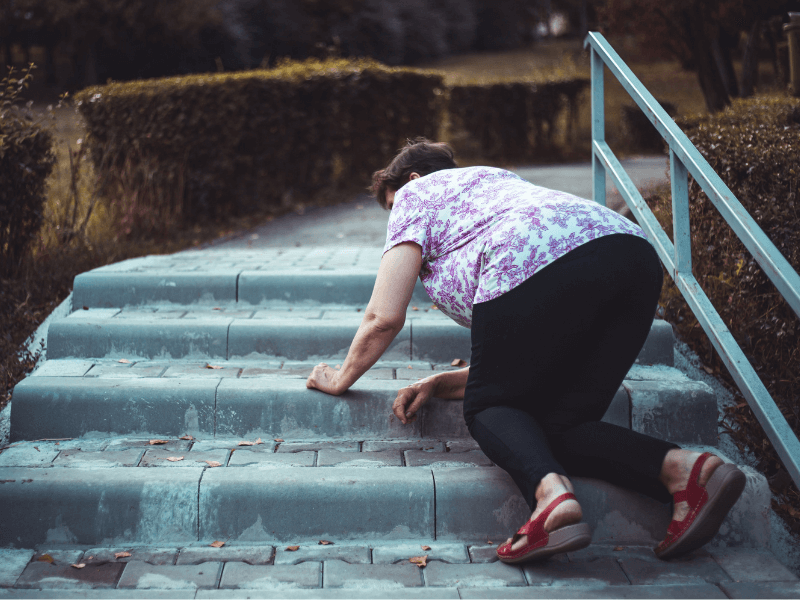 You'll need to understand what your Columbia claim is worth, which can be tough to calculate. It's difficult to stay on top of your expenses when you're hurt, and you might not have the tools you need to calculate your losses.
Fortunately, your Columbia fall injury attorney has the tools you need. They can help determine the worth of your financial losses and the intangible suffering you've experienced in the wake of the accident. If you've suffered any of the following financial and non-financial losses in Columbia, you may have grounds to seek compensation for these losses.
Medical costs
Lost income
Household services during recovery, such as housekeeping
Calculating a Claim in Columbia, South Carolina
Calculating your claim can be complex. You should allow your attorney to handle this to get full and fair compensation for your injuries. It may seem straightforward to total the cost of lost wages and medical bills, but you usually cannot sue for ongoing expenses. Your lawsuit will involve a lump sum. Your attorney knows how to estimate the full value of your injuries to fight for enough to cover past, present, and future losses.
In addition, your attorney will apply a formula to determine what noneconomic injuries like pain and suffering, emotional distress, PTSD, loss of consortium, loss of enjoyment in life, loss of comfort and support, and other invisible injuries may be worth. If you get hurt, do not go it alone. Talk to an attorney at HawkLaw. We will stand by your side every step of the way in your Columbia slip-and-fall accident case. Remember, HawkLaw fights to win.
Talk to a Columbia Slip-and-Fall Injury Attorney
Suffering through a slip-and-fall accident can take a toll on you, not just physically but emotionally. You're stuck with the pain and suffering of a serious accident, but you are also unsure how to file a lawsuit, seek out compensation, and recover financially from your fall.
At HawkLaw, we know that dealing with the aftermath of an accident is tough. That is why you may need to start by taking advantage of a free consultation* with a Columbia slip-and-fall lawyer. If you have questions about your claim, call 1-888-HAWK-LAW (429-5529) or fill out the online form below.
Meta: Learn about slip-and fall-accident cases, why they are complex, and how a personal injury attorney at HawkLaw can fight for compensation for you.
Visit Our Office
Address:
HawkLaw, P.A.
140 Stoneridge Drive
Suite 430
Columbia, SC 29210