Columbia
Bicycle Accidents
HawkLaw Fights for Columbia

4.8 Average on Google
Columbia Bicycle Accident Lawyer
Were you recently hurt in a bike accident? Are you concerned about your ability to afford rising medical costs? Hiring a Columbia bicycle accident lawyer can help you seek the full compensation you deserve for your injuries.
Bicycles are a common way to travel down the block for work, a quick show, or just a little exercise. Unfortunately, that convenience can come at a price. Whether someone hit you with their door or didn't see you in traffic, you've been in an accident while on your bike, and now you're badly injured.
At HawkLaw we've seen firsthand just how devastating the damage is after a bicycle crash, and we want to help. If you suffered a catastrophic injury from being hit on your bike, you may need a Columbia bicycle accident lawyer for your claim. Our law firm will help you fight for the compensation you deserve for your suffering. Call now to schedule a free consultation* and begin your case.
Stay Vigilant When Riding a Bicycle on the Road
Riding a bicycle on the road can be more dangerous than you might think, leading to catastrophic injuries. More than 900 bicyclists were killed in traffic accidents in 2021, according to the National Highway Traffic Safety Administration (NHTSA). To avoid incurring a personal injury when biking, it is best to abide by a few standard practices. These include wearing brightly colored clothing, checking your tires and brakes before riding, and looking twice when exiting a driveway or going through intersections.
South Carolina Helmet Laws
One of the most obvious safety tips to follow to avoid personal injury is to always wear a helmet when cycling. In terms of legality, however, South Carolina law has no requirement for bicyclists to wear helmets. This is a bit more relaxed compared to many other states, and it may be a contributing factor in the prevalence of bicyclist fatalities relative to other states. Most bicycle accident disfigurements and fatalities occur due to head injury, so a helmet should always be worn to keep yourself safe, as many personal injury accident victim testimonials will tell you.
Common Causes of Bicycle Accidents
Bicycle accidents in Columbia, South Carolina, can turn from a personal injury to a fatality very quickly, so it is important to be aware of some of the most common causes so you can remain vigilant. Here are the most common causes of bicycle accidents.
Not Yielding
Yielding is an important part of driving on any roadway that involves merging traffic. All drivers must yield to oncoming traffic, and that includes bicycle traffic. Roundabouts and merging lanes are where these accidents occur most often.
Weaving Through Traffic
Particularly impatient motor vehicle drivers who weave through traffic are already putting themselves and others at risk, but this kind of driving can be especially troublesome for cyclists. A vehicle weaving through traffic will be less likely to pull off evasive maneuvers and could drift into shoulders and bike lanes easily.
Reckless Driving
Reckless driving comes in numerous forms and is the cause of many accidents and personal injuries. This can include driving while fatigued or impaired or instances in which the driver simply shows a disregard for the duty of care that is expected of them on the road.
Failure to Obey Traffic Laws
Traffic laws, like stopping at a red light, exist to keep people safe on the road, and failing to obey them can lead to all sorts of accidents. These accidents can be more dangerous for cyclists because they do not have the protection of a car around them to help prevent severe injuries.
Right Hook
Right hook maneuvers can be very harmful to bicyclists. When a cyclist is near the shoulder or in the bike lane, a car turning right at an intersection without giving proper consideration to the cyclist and their right of way may end up cutting off the cyclist, causing them to crash.
Left Cross
A left cross accident is one in which a negligent driver hits a cyclist while the driver is making a left turn across the lane the bike is in. These collisions can be fairly damaging, so it is doubly important for all drivers to look twice before turning left.
Distracted Driving
Driving distracted can be as bad as driving while impaired, as it takes away valuable reaction time that could be used to avoid an accident. Whether a driver is on their phone or having a conversation, failing to focus on the road can be dangerous to cyclists and other motorists.
Bicycle Accident Injuries
When you're hit while riding your bicycle, your injuries will need to be your first concern. You might have been wearing a helmet, which can help prevent more serious head trauma, but it might not stop other injuries. You won't have airbags or seat belts to protect you from major trauma like you would if you were in a car accident.
This trauma can affect your life moving forward. Some injuries may be permanent or may worsen if not treated immediately. That could leave you affected by your accident years after, and this trauma can have both physical and mental effects.
If you suffered any of the following injuries (or others), seek out a Columbia bicycle accident lawyer from an experienced law firm after you receive medical care:
Traumatic brain injury
Broken bones
Friction burns
Who's at Fault in a Columbia, South Carolina, Bicycle Accident?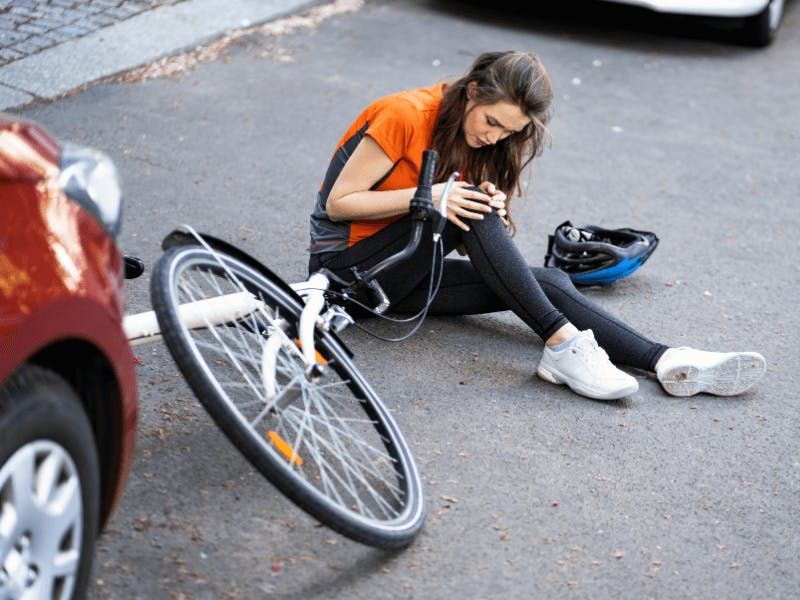 Fault in a South Carolina bicycle accident is determined by the individual nature of each accident. Most of the time, however, the motorist is at fault for failing to properly yield to cyclists. The motorist may also have been impaired or violated other traffic laws that led to the bicycle accident. Still, bicyclists may be at fault in certain situations.
Bicyclists are held to the same standards as everyone else on the road, which means they have the same rights to protect themselves and the same responsibilities to others. If an accident was caused by the cyclist acting in a reckless manner or otherwise failing to meet their standard of care toward others, they could be held liable with no at-fault driver in the scenario at all.
What if I Was Lane Splitting While on My Bicycle and Was Hit?
Lane splitting involves riding a bicycle between lanes of traffic. If you were hit while lane splitting in South Carolina, you will likely be held liable for any damages, as it is explicitly illegal in the state. While it is possible that the other driver involved in the accident could be at fault, too, lane splitting is considered to be a form of reckless driving in South Carolina, and it can lead to serious brain injuries.
What if I Was on an E-Bike and Got Hit?
Columbia e-bikes have similar rules for riders as standard bicycles, provided they aren't of a particularly high wattage. E-bikes with greater than 750 watts of power are instead treated like mopeds on the road. Given that e-bikes do not need to have their own insurance in South Carolina, you do not need to have a license to ride them. As a disclaimer, this will not necessarily bar you from receiving personal injury compensation as an accident victim after a collision.
Seeking Compensation For Your Columbia Bike Accident
Once you've been treated for your injuries, it's time to consider the damage done to you and your future for the purposes of your catastrophic injury claim. These losses, or damages, should include both the economic and non-economic damages you've suffered in Columbia.
The financial losses might be easier to calculate. These recoverable damages should include anything you would have spent money on to replace or repair after the accident. For example, this might include the cost to repair your bicycle, your medical costs, and your lost wages if you're unable to work.
However, your losses don't end there. You might be in severe pain, or you might be suffering emotional trauma because of your bike crash. While these losses don't have a price tag attached, they do impact your life. Speak to your Columbia, South Carolina lawyer at HawkLaw for a free consultation* with our law firm if you're not sure what these losses are worth.
In South Carolina, Can a Cyclist Get Auto Insurance?
Yes, cyclists can get auto insurance. In fact, you may find that your auto insurance policy covers bike accidents as well. Still, it might not, so it is always best to check your policy details before riding. Keep in mind that insurance companies exist not only to protect others from accidents you cause but also to protect you from accidents and serious injuries caused by other automobiles. Regarding the latter, it may not matter if the other motorist hit you while you were driving, walking, or riding a bike. Your medical expenses may still be covered with a Columbia personal injury claim.
What Do Motorists Need to Know When They Encounter Bicyclists on the Road?
The most important guideline to keep in mind when encountering bicyclists on the road is to maintain a space cushion. By leaving plenty of space between you and the cyclist, you can offer yourself plenty of reaction time should something go wrong to avoid personal injury, including serious ones like brain injuries.
Rules for Bicyclists on Columbia's Roads
When you take your bicycle out on the road, you are subject to all the same traffic laws that vehicles are. While maintaining your safety requires some unique practices, the laws regarding how bicycle riders are permitted to travel on the road are the same as those for motor vehicles.
Contact a Columbia Attorney after a Bicycle Accident
The aftermath of a bicycle wreck in South Carolina can be overwhelming. You only had a small amount of protection, if any at all, and now you're suffering from major injuries. Worse, it's not easy to get the compensation you deserve. The responsible party may even try to fight back.
The Columbia, South Carolina lawyers at HawkLaw understand how difficult that can make your recovery. That's why we're focused on helping bicyclists like you get the funds they need to deal with a serious bike crash.
Ready to act now? Your Columbia bicycle accident lawyer is ready now to speak with you about your claim. To get started with a free consult* about your crash case, reach out to our law firm by calling 1-888-HAWK-LAW (429-5529) or by completing the online contact form.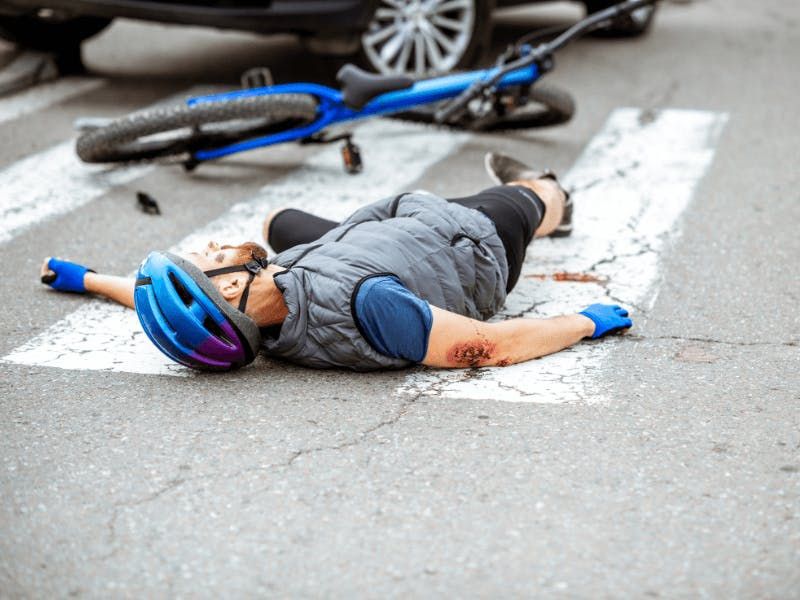 When Traffic Doesn't See You, Know That We Will
The HawkLaw, P.A. law firm knows how devastating a personal injury or brain injury from a bicycle accident can be, whether you are worried about medical bills or going through the wrongful death of a loved one. That's why the personal injury lawyers at our law firm are prepared to help you through your case, from a free case evaluation* and legal advice to a settlement, letting you focus on recovery. We have years of experience representing Columbia victims of negligence and understand Columbia bicycle accidents are preventable, and you can bet that we have likely seen an injury like yours in the past and know which legal options to pursue. Get in touch with our law firm team today to schedule a free consultation and case review*.
Visit Our Office
Address:
HawkLaw, P.A.
140 Stoneridge Drive
Suite 430
Columbia, SC 29210