Charleston
Nursing Home Abuse
HawkLaw Fights for Charleston

4.8 Average on Google
Charleston Nursing Home Abuse Lawyer
Nursing home or elder abuse and neglect is a terrible reality for some of our country's most vulnerable individuals. Elderly loved ones are often at the mercy of nursing home facility staff members and caregivers.
For the most part, South Carolina facilities obey their duties of care toward residents and do not cause unreasonable harm. In some cases, however, facilities and staff members engage in negligent, reckless, or violent behaviors that cause harm to nursing home residents. If you suspect elder abuse or neglect against one of your loved ones in the Charleston area, don't wait to seek legal help. Contact the Charleston nursing home abuse lawyers at HawkLaw today for assistance with nursing home legal issues.
What Are the Different Types of Elder Abuse?
Understanding the four main types of elder abuse or neglect and their warning signs can help you put an end to this heinous crime in your community. The signs of elder abuse can be highly varied. If you notice anything unusual, such as unexplained injuries or changes in your loved one's behaviors, it may be worth investigating.
Elder abuse goes widely unreported due to victims being scared or unable to talk about their situations. Look for symptoms among the four types of nursing home abuse common in long-term care facilities:
Physical Abuse 
This type of abuse is typically the easiest to detect, as it can leave behind visible marks on the victim. Look for strange bruises, slap marks, bites, burns, and marks that appear to have resulted from restraints.
Emotional Abuse
According to the World Health Organization, emotional abuse is the most common form of nursing home abuse that residents suffer. Emotional abuse can be sorted into two main categories: verbal and non-verbal. Verbal abuse involves a staff member yelling or threatening a resident, and this form of abuse is often more obvious. 
Contrarily, non-verbal abuse is a bit more subtle and not as easily recognized by onlookers. The effects of non-verbal abuse can be the same as verbal abuse, so keep an eye out for the same indicators of emotional abuse and emotional distress. Look for changes in your loved one's behaviors, such as depression, anxiety, fear, or lack of interest in social activities, as this may signify psychological abuse.
Neglect
Neglect occurs when nursing home residents are not provided with the proper care they require. While this does still qualify as nursing home abuse, neglect does not necessarily occur due to active hostility or as the result of a deliberate act. Neglect cases can be the result of staff carelessness or rampant understaffing, which is a common problem in assisted living facilities across the country. 
Neglect can take many forms as well, such as medication errors, malnutrition, dehydration, ignoring complaints, and poor personal hygiene. In some circumstances, neglect is so serious that it could result in a wrongful death case.
Financial Abuse
Financial abuse by nursing home staff members, friends, or even family members may occur when someone takes advantage of an elderly person's illness or mental state to coerce them into giving away money or assets. 
Additionally, healthcare fraud is a growing concern within financial exploitation. This form of abuse mostly consists of nursing homes billing for services that were either not provided or not medically necessary. This is commonly committed by double billing or billing for procedures that are more expensive than the procedures that were actually performed. Keep watch over your loved one's bank accounts to detect unexplained withdrawals or asset losses.
Sexual Abuse
Staff members may take advantage of residents sexually when they are unable to speak out against them, such as patients with Alzheimer's. Detect sexual abuse by looking for marks on the resident's upper thighs or genitalia injuries. Emotional and behavioral changes may also indicate sexual abuse.
What to Do if a Family Member Is Committing Elder Abuse
It can be tough to accept that a family member is committing elder abuse, but when money matters are involved, some otherwise decent people are capable of committing acts you would not expect. If you are suspicious that an elder is being neglected by a family member, keep an eye out for signs like weight loss, dehydration, and poor hygiene. Signs of financial abuse can include missing bill payments, negative credit reports, and service interruptions. Sudden changes to estate plans can be a sign of elder abuse, too, so it is always best to keep an eye on the circumstances around any changes.
To help prevent this kind of elder abuse, it is essential that you document everything. Keep a record of any suspicious activity and keep detailed records of all relevant financial transactions. This will help you build a case with sufficient evidence to protect the elder if abuse is found to be taking place. Then, you can contact Adult Protective Services and potentially move to invoke power of attorney. A Charleston nursing home injury lawyer can help. Schedule a free consultation* with our legal team to empower and protect your loved one.
How to Spot Nursing Home Abuse
As mentioned, nursing home abuse and neglect leave signs behind, and you can more easily spot them if you know what to identify. Here are some of the most common warning signs of nursing home abuse and neglect that Charleston nursing home abuse lawyers see often:
Bedsores
Pressure ulcers
Skin tears and cuts
Dehydration and malnutrition
Facial and dental injuries
Sepsis from infections
Broken bones and fractures
Unexplained weight loss
Injuries from falls
Bruises and welts on skin
The Steps to Take When You Suspect Nursing Home Abuse in Charleston
The moment you suspect elder abuse, withdraw your loved one from the facility or home of the responsible caretaker. Notify the police of your suspicions so they can record your complaint and investigate the issue. If the police find something amiss with the nursing home or otherwise prove elder abuse and neglect, you may be able to file a personal injury claim on top of a criminal claim against the offender.
The Charleston nursing home abuse lawyers at HawkLaw can help you sort through South Carolina's Adult Protection laws, as laid out in Title 43 of the state's Code of Laws. These laws, the Omnibus Adult Protection Act, provide a system of protection for the state's adults. It clarifies the responsibilities of nursing home staff members and others involved in the system, as well as addresses the needs and rights of vulnerable adults. It defines elder abuse and outlines how victims may file allegations of abuse and neglect. It also lists civil and criminal penalties for these crimes.
At HawkLaw, we offer confidential and free consultations*. You can explain what happened and hear your legal options. Call 888-HAWKLAW to get in touch with our local nursing home abuse lawyers in Charleston and throughout South Carolina today.
How Do I Report Nursing Home Abuse in Charleston, South Carolina?
If you have confirmed that nursing home abuse or neglect is taking place, call law enforcement immediately. The number is 1-888-227-3487 for the South Carolina Department of Social Services. Alternatively, you can report nursing home abuse and neglect online by clicking here to get your report to the South Carolina DSS.
In addition to reporting the nursing home abuse and neglect, you will need to collect as much evidence as possible. If the abuser gets wind of the report, they may try to get rid of the evidence if they can. Collect medical and financial records of the victim as well as nursing home documentation. Taking photographs that confirm the abuse and neglect helps too, such as photographing bedsores, bruises, or other remnants of mistreatment. Gathering witness testimonies can help along with the personal logs you have kept.
What Is the Average Settlement for Nursing Home Neglect or Abuse in Charleston?
As a disclaimer, nursing home abuse or neglect settlements can vary quite a bit depending on the extent of the abuse, medical costs, funeral expenses, and even non-economic damages like pain and suffering. The average nursing home abuse settlement is about $406,000, according to the Health Affairs journal, but your particular case may not come close to that amount. Previous settlements have awarded substantially less, while others have awarded more than $2 million to victims of abuse due to the egregious violations and hard work of Charleston nursing home abuse lawyers. The only way to know how much your case is worth is to speak with a Charleston nursing home abuse attorney.
How Long Is the Statute of Limitations for Nursing Home Abuse in Charleston?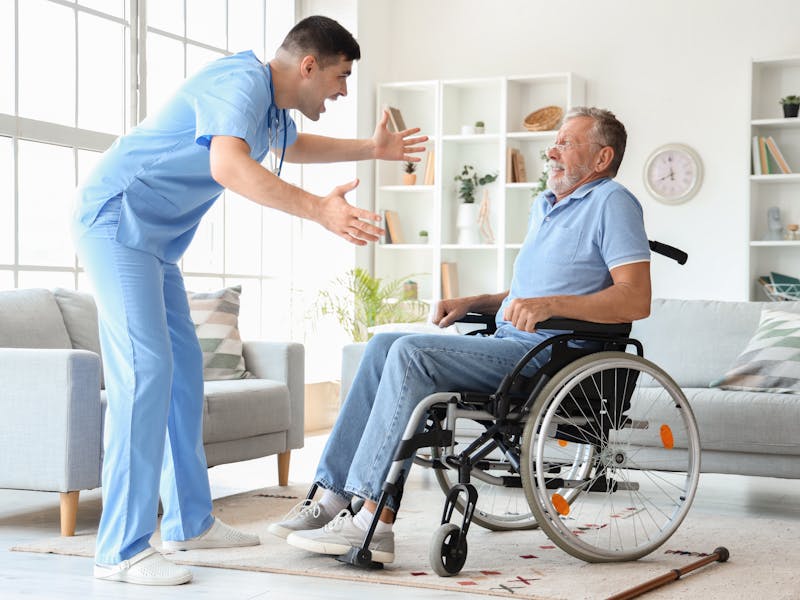 Under South Carolina law, you have three years from the date the abuse was discovered to put forward a legal claim in most cases. The exception is when the target of your lawsuit is a medical institution that is funded either fully or in part by the state. In that case, the statute of limitations decreases to two years. 
How Long Does It Take to Settle a Nursing Home Lawsuit in Charleston?
The time frame for nursing home abuse or neglect lawsuits varies quite a bit depending on the details of the case, but the overall length ranges from a few months to a few years for abuse cases that reach a settlement. If a settlement cannot be reached, the case will go to trial. Cases that go to trial will take significantly longer than cases that settle, but a Charleston nursing home abuse attorney can help speed up the process. A free consultation* can give you an idea of how long the process will take.
HawkLaw Nursing Home Abuse Lawyers Fights for Your Beloved Elders
Your elderly family members deserve to live with dignity and respect, and that is why the tenacious law firm of HawkLaw will take legal action against nursing home abuse. If you are seeking help from a personal injury lawyer and nursing home abuse lawyer in Charleston, SC, North Charleston, Greenville, Mt. Pleasant, Myrtle Beach, Columbia, or elsewhere in South Carolina, get in touch with our team by calling 888-HAWKLAW or completing our online contact form to begin with a free consultation*, case evaluation, and legal advice.