Recent Blog Post
After a Car Accident Should You Replace Your Seatbelt?
In 2020, about half of the passengers killed in car accidents were not wearing seat belts, according to the National Highway Traffic Safety Administration (NHTSA). The NHSTA also points out that seat belts saved almost 15,000 lives in 2017.
There is no denying the fact that seat belts save thousands of lives each year.
If you have been in a car accident recently, you may have experienced firsthand how seat belts protect car occupants. However, while you may be aware of exterior damage to your car, you probably have not thought too much about the damage potentially occurring to your seat belt.
Been in a recent accident and need help collecting compensation? You should consider the cost of replacing your seat belt if you are seeking compensation for property damage following a car accident. The personal injury attorneys at HawkLaw, P.A. can help. In addition to helping you determine the true cost of your injuries, our legal team can act as the go-between with insurance, even filing a lawsuit if necessary. Call our law firm today for a free consultation at 888-HAWKLAW.*
How Does a Seat Belt Protect You in an Accident?
A seat belt is designed to keep drivers and passengers in their seats. In the event of a collision, the seat belt restrains people from being ejected. The U.S. Centers for Disease Control and Prevention (CDC) indicates people who do not wear seat belts are 30 times more likely to be ejected from a motor vehicle in an accident. Seat belts also minimize the risks of serious injuries.
Modern seat belts are built with retractors, which give the vehicle rider a bit of movement but restrain them from moving too far (which can also lead to injury). The seat belt pretensioner reels back any slack occurring to help keep riders safe. Seat belts are also designed with a 3-point system, which keeps a rider's hips and shoulders in place when an impact occurs.
For front-seat riders, seat belts also help keep the head and upper body from colliding with the dashboard, windshield, or steering wheel. Consider, if your car is driving 55 miles per hour, so is your body. Imagine the sheer force your body experiences if you collide with something at that speed.
It is important to wear the belt as designed because incorrect wear can lead to additional injury in the event of a crash. For infants and young children, safety car seats should be correctly buckled with the seat belt. Correct installation keeps the seat in place if an accident were to occur.
When Should I Replace My Seat Belts?
You should replace your seat belts after several years of use. Like other car components, seat belts are prone to wear and tear. The longer you have been driving your car, the more likely the seat belt will malfunction.
Another reason you should replace your seat belt is that if your car seat belt becomes frayed, it can weaken its effectiveness. Some safety experts recommend seat belt replacement every 10 to 15 years. Purchasing a used car? Always get a seat belt inspection to ensure the seat belts are not damaged.
Should I Replace Seat Belts After a Car Accident?
Yes, you should absolutely replace your seat belts if your vehicle is in an auto accident. The NHTSA considers seat belts a single-use item, much like airbag systems. This means if the car seat belts have been in an accident and did their job, it is time for a replacement since the components will not activate again in a future crash.
Essentially, a car accident compromises seat belt retractors and pretensioners. This means your seat belt may not work correctly, and you or your passengers may get ejected from your car and suffer a personal injury if you have a second car crash.
Safety belts save lives and reduce serious injuries, but they must be in working shape to do their job. Whether your vehicle is in an accident or not, be sure to routinely test and inspect your seat belts for damage or wear and tear. If you are in a car accident, seek help from an expert who can replace your seat belts and install them safely. You can ask the insurance company to perform a seat belt repair as a part of your overall repair after the vehicle accident.
What Other Car Parts Should I Replace After an Accident?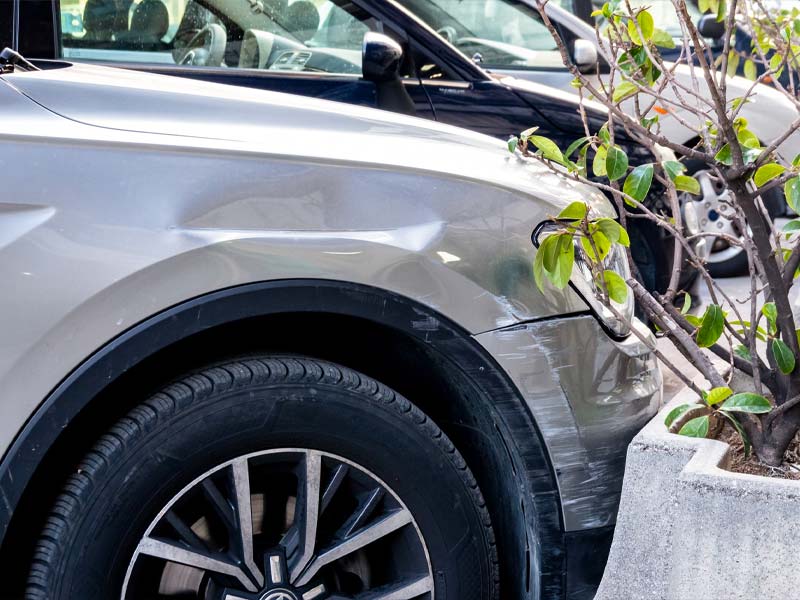 Car seat belts are not the only vehicle components you should think about replacing after a car accident. Other common car parts that need changing include:
Car fenders (frames over its wheels)
Window seals
Trunk lock
Front grill
Warning systems
It is a good idea to have a trusty mechanic or licensed expert who understands and is knowledgeable about the make and model of your vehicle. Failure to inspect important components of your car after a crash can lead to disastrous effects for a driver and any passengers, such as traumatic brain injury, spinal cord injury, or wrongful death.
A Malfunctioning Seat Belt Could Cost You Your Life
If you are in a future accident and your seat belt malfunctions, you could sustain serious injuries or even lose your life. Worst of all, insurance may deny your car accident claim. Protect your right to compensation by replacing your seat belt right away.
If you are in a car accident, speak with a knowledgeable personal injury attorney as soon as possible. South Carolina has a three-year statute of limitation from the date of the collision.
This sounds like a long time, but it really is not. Consider that it takes time to put together a strong case. Even if you think you missed your window of opportunity, you should speak to a lawyer anyway because there are some exceptions to the three-year time limit to pursue compensation. Your attorney can examine the circumstances of your accident and determine eligibility.
A malfunctioning seat belt could cost you your life or that of a cherished loved one. If you need help with your South Carolina car accident claim, call the compassionate attorneys at HawkLaw as soon as possible. Our phone number is 888-HAWKLAW, or complete our convenient online contact form to get started on obtaining a free consultation.*
---