Recent Blog Post
What to Do When Your Car is Being Recalled
Every year in America, motor vehicle manufacturers issue thousands of recalls. Many of these are safety recalls involving defective parts that make it dangerous to drive your vehicle. Knowing if your vehicle is subject to a recall can help keep you safe. Having a defective vehicle with a recalled part may seem like a nuisance, but fixing it can improve the safety of your vehicle overall.
It is important to know your rights if your vehicle is recalled. Continue reading to see what you need to do when a motor vehicle product recall is issued, learn where to check for a recall notice, and discover how the personal injury lawyers at HawkLaw, P.A. can help.
What is a Car Recall?
A car safety recall is a notice that a part of your vehicle is defective and poses a risk to you or other drivers on the road. Sometimes, issues like bad airbags or defective seat belts risk serious injuries if you get into a car accident. Other times, defective parts put you at a greater risk of an auto accident. Auto manufacturers issue notices of such safety problems. They are released to inform vehicle operators of safety risks so you can get in and have the vehicle repaired at no cost to you.
What Happens if Your Car Is Recalled?
In South Carolina, vehicle recalls fall under product liability laws, and regulators impose strict safety standards on every level of a motor vehicle's manufacturing and construction. Recalls are an important part of these laws. Suppose any product manufacturer, including motor vehicles, is aware that using their product is dangerous. In that case, they are required to let people know of the risk and offer a means to correct the issue.
Product liability cases fall under three basic categories:
Manufacturing defects refer to instances where a product was designed safely, but shortcuts or mistakes occurred during the manufacturing process that created unnecessary risk. Using a cheap battery that did not meet safety standards to power an electrical part is an example. If the manufacturer knew about the shortcut, they could be liable for damages caused by proper product use.
Design defects refer to situations where the product's core design was unsafe when safer alternatives existed. If the design passed through the manufacturer and their quality control, and it can be shown that they knew the design was faulty, they may again be held responsible for accidents and injuries related to the risk.
Failure to warn is sometimes also referred to as a marketing defect. In this case, the manufacturer knew or became aware of the product's risk and failed to warn users. Situations in which a product did not come with proper documentation or instructions related to its risk can also fall under this category. This is generally where recall notices fall, though manufacturing and design defects can also make a product recall necessary.
Under federal law, the car manufacturer must pay for the repair or replacement of the vehicle defect or offer a refund to car owners. You will not have to pay for repairs or the replacement of such defective products or parts. You simply have to take your vehicle to your local dealership, and they will take care of the problem. You do not have to worry about warranty coverage, as defective parts that create safety issues do not fall under warranty if a recall notice has been issued. They are covered regardless of your current warranty status.
If you are in an accident due to a defective part on your car and no recall notice was issued, or you are in an accident with someone who was knowingly driving a defective vehicle, you may be eligible for significant compensation for your injuries. Damages you may collect include your medical bills, lost wages, pain and suffering, property damage, and other losses.
Collecting these damages, however, can be complex, and you should always seek help from an experienced personal injury law firm. The right vehicle accident attorneys can help you avoid pitfalls like missing paperwork filing dates so that you remain within the proper time frame. The right attorney can fight to hold the responsible parties accountable.
Where Can I Check to See if There Is a Car Recall?
The National Highway Traffic Safety Administration (NHTSA) maintains a website where you can search for vehicle recalls for your car. All you need is your vehicle identification number (VIN). You may find other recalls not directly related to vehicle safety, such as bike racks, car seats, and the like, subject to recall notices. You can also contact automakers directly, but the NHTSA is your best bet for finding a car recall.
Do You Have to Take Your Car in for a Safety Recall?
The law does not specifically require you to take your car in for a safety recall repair. The risks of ignoring the recall, however, are vast. A car accident due to a defective part for which a recall was issued can cause serious personal injury or even wrongful death.
Under product liability law, the manufacturer of a defective part can be held responsible for injuries that result from its use. If, however, you knowingly decide to drive a vehicle with an existing safety recall, you may open yourself to legal action for a vehicle accident resulting from the safety issue. The blame could shift from the manufacturer to you in such a case. In short, it is never a good idea to ignore a recall notice.
If you are in a car accident with someone who was operating a vehicle with a known defect, you may be entitled to significant compensation for your injuries. Contact the experienced accident attorneys at HawkLaw by calling 888-HAWKLAW or filling out our online form. We can provide legal advice and legal options. Check out our disclaimer and ask about a free case evaluation*. HawkLaw fights to win.
Can I Still Drive My Car Before the Recall Repair?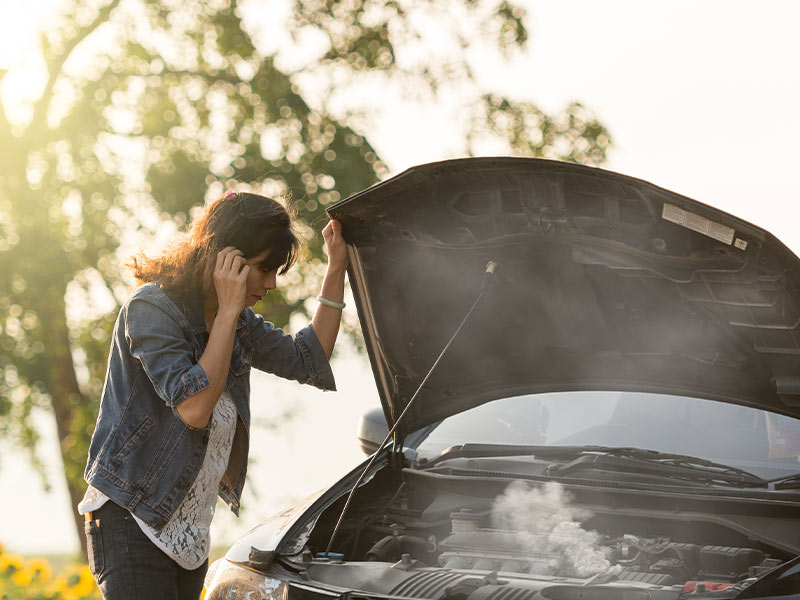 We advise vehicle owners who learn about a recall for their vehicle to take it in for repairs as quickly as possible. The first thing to do is review the recall notice carefully. The notice will tell you if the vehicle is safe to drive or what actions to take immediately. For example, a vehicle at risk of catching on fire from a defective part should be kept outside and away from structures until repaired.
In some cases, the automaker will issue a "do not drive" warning with the recall. This is true in cases like vehicles with faulty brakes. Do not tempt fate if your recall notice comes with such a notice. It represents a serious issue that can risk the lives of vehicle owners and everyone else on the road.
If there is no "do not drive" warning, the car is likely reasonably safe to drive if you have to. However, you should still bring the vehicle to a dealership for repairs as soon as possible. Remember, if you have an accident due to a vehicle safety issue you were aware of, you could be held responsible. It is not a risk you should take lightly.
What Are the Most Common Types of Car Defects?
Designing and manufacturing motor vehicles is a complex process, and many defects can creep in. We have, over the years, seen everything from defective batteries to ABS (anti-lock braking) systems that can burst into flames to airbags that fail to deploy to bad axles that cause wheels to fall off vehicles while driving. Some of the most common car defects seen, however, involve airbags, brake failure, seat belt issues, and collapsing roofs.
Airbags
Almost everyone who drives a car has probably heard of the issues with Takata airbags over the past several years. These issues have affected Toyota, GM, Volkswagen, Chrysler, and other manufacturers. Airbag defects come in several varieties:
Failure to deploy: Some faulty airbags simply do not activate when they should. This can be due to sensor issues or faulty systems that malfunction when deploying airbags. Regardless, airbags that do not work put drivers and passengers at risk.
Unexpected deployment: In some cases, airbags have randomly deployed when they should not. This can cause minor injuries like bumps, bruises, and scrapes. In the worst case, however, an airbag deploying in your face while driving can lead directly to a catastrophic accident.
Overly forceful deployment: Some airbags deploy with explosive force. This can cause injuries instead of cushioning an impact, even resulting in broken bones in the neck and face, which can lead to wrongful death.
Brake Failure
Brake failure is a terrifying thing to experience, and it can result in you instantly losing control of your car. Your brakes are the most basic safety feature your car has, and when they do not engage properly, it can lead to devastating, life-altering, or even life-ending injuries.
Seat Belt Issues
Seat belt issues come in several varieties. These include:
Breaking seat belts: If a seat belt breaks or fails to restrain a passenger during an accident, it can result in death or serious injury. Breaking seat belts can occur at the buckle or at the point where the belt locks above the shoulder or even involve weak straps that snap on impact.
Unbuckling seat belts: If the seat belt buckle does not properly engage when you snap it in, it can simply come loose. Because the seat belt is one of the basic safety features of your vehicle, a belt that does not stay buckled can lead to a catastrophic failure.
Collapsing Roofs
Collapsing roofs are a common issue during vehicle rollover accidents. Modern vehicles have roll bars designed to protect those inside a vehicle when it rolls. When these bars fail, the roof can be crushed, resulting in death or permanent injury.
Were You in an Accident With a Recalled Car?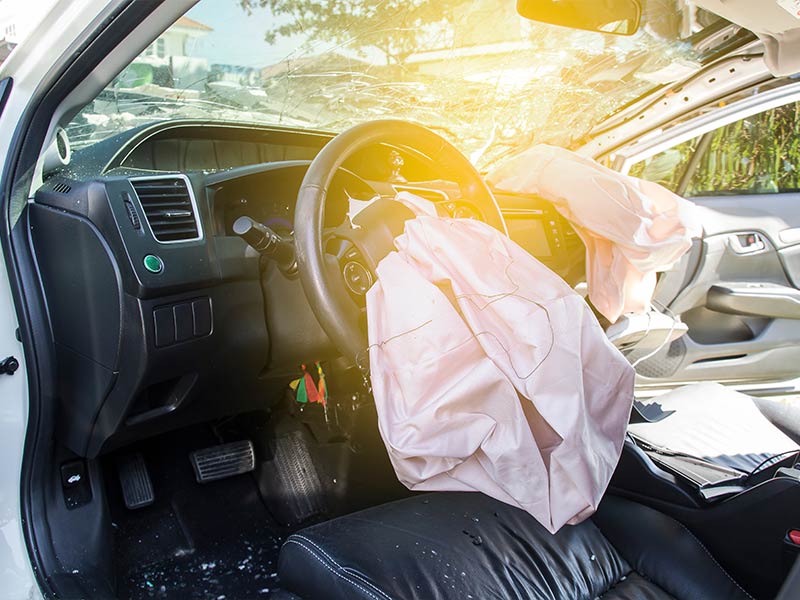 If you were in an accident with a recalled vehicle, you might be able to collect compensation for the injuries you suffered, depending on fault and severity. Collecting these damages requires help from a qualified, experienced South Carolina motor vehicle accident law firm.
Every accident requires proving negligence, which means demonstrating that the other driver acted irresponsibly, that their irresponsible act led to the accident, and that you got hurt. South Carolina is an at-fault state for car accidents, but it also has a modified comparative negligence standard. Your award can be reduced by the percentage of fault you hold. Worse, if you are more than 50% at fault, you can be barred from compensation altogether.
This is why having an experienced auto accident attorney like HawkLaw in your corner is important. We treat our clients like family and believe in an honest, open attorney-client relationship. We will fight for you every step of the way, and HawkLaw Fights to Win.
Are You Concerned About Your Recalled Vehicle?
If you are in an accident with a recalled vehicle or are concerned about your own vehicle, contact the experienced product liability attorneys at HawkLaw, and ask about a free consultation.* We have offices in Charleston, Columbia, Greenville, and Spartanburg, allowing us to effectively serve all of South Carolina. Our phone number is 888-HAWKLAW, or you can fill out our easy online form to schedule a discussion with a member of our team today.
---