Recent Blog Post
Common on the Job Injuries Workers Sustain in South Carolina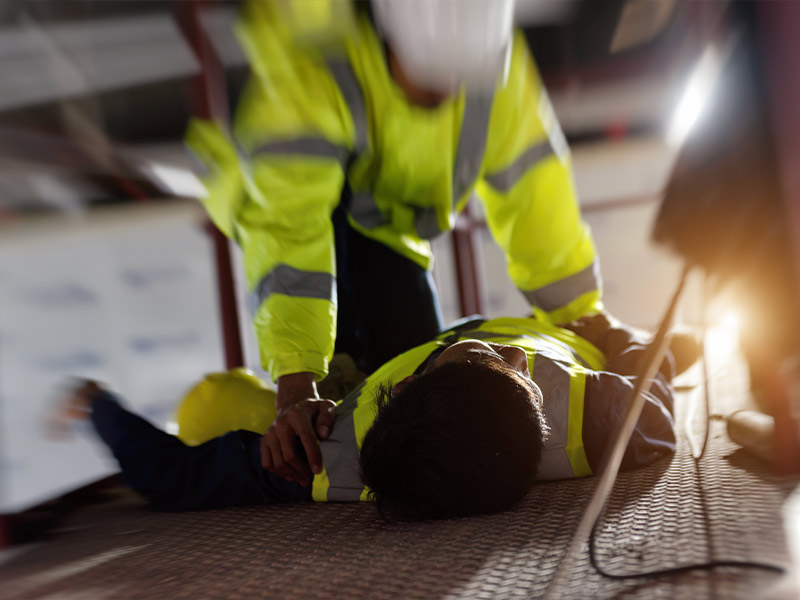 Workplace injuries are more common than people think. They happen every day all over the country. In South Carolina, a total of 2.1 employer-related injuries occurred per 100 workers in 2020, according to the Bureau of Labor Statistics (BLS). Over half of those injuries happened in the trades: transportation industry, utility workers, education, or health services.
Workers' compensation insurance exists to cover your medical expenses, and part of your lost wages help you make ends meet when you are hurt on the job. Still, all too often, the insurance company denies workers compensation claims. At HawkLaw, P.A., we have experience helping injured workers pursue workers' comp claims for all types of workers' compensation injuries. Contact us at 888.HAWK.LAW or use our online contact form to request a consultation today.
What Are Common Workplace Accidents in South Carolina?
The BLS cites transportation accidents, falling objects, heavy equipment use, slip and fall or tripping, and exposure to harmful substances as the most common types of workplace accidents in South Carolina. Let's review each type of work accident in more detail.
Transportation Incidents
Transportation incidents refer to car accidents while you are en route to meet a client, transporting goods for your company, or other accidents related to using motor vehicles on the job. It is important to note that accidents commuting to and from work are not eligible for workers' comp claims in South Carolina.
Contact With Objects and Equipment
Contact with objects and equipment is a broad category. Heavy equipment accidents can cover everything from elevator incidents to equipment malfunctions, electrical accidents, forklift accidents in warehouses, and any situation involving the use, failure of, or accident involving machinery and gear. Contact with objects can be tools falling from scaffolding on a job site, tripping over a carelessly placed bucket, falling ladders, and other issues involving objects.
Slips, Falls, and Trips
According to the BLS, slip and fall accidents account for around 35% of all workplace accidents. They are common in every workplace, from construction sites to office jobs. Many happen in places like hospitals, restaurants, and the like where heavy foot traffic occurs all the time. Even a desk job can see workers slip and fall while walking to the photocopier or bathroom and suffer serious injuries.
Exposure to Harmful Substances
Exposure to harmful substances happens most often on industrial and chemical sites such as mining and the oil industry. Still, construction also sees its share of toxic chemical and substance exposure. Even regular desk jobs can see issues like asbestos exposure in old buildings, which can result in severe health conditions and illness, even death.
What Types of Injuries Are Covered in South Carolina?
South Carolina's workers' compensation laws state that any injury or illness you contract during the scope of your normal employment is covered by a workers' compensation claim. Workers' compensation insurance is a no-fault form of coverage. This means that it does not matter whose fault it was; if the accident happened while you were doing your routine work, your injury claims should be covered.
The insurance company might deny your claim if the incident occurred outside of your regular work duties. For example, if you trip and fall while walking to the bathroom, you are performing an everyday activity during your workday, so you should be covered. If you get into a fight with a coworker and someone gets injured, it is not covered.
Likewise, your daily commute occurs before and after work, not during work, so car accidents on your way to work are not covered. On the other hand, a car accident during the workday as you travel to a client's office for a meeting would be covered. Falling off scaffolding is covered unless, for example, you violated clear safety protocols that would have prevented the fall.
What Are the Five Most Common Injuries in a Workplace?
According to Employers.com, the five most common injuries in the workplace include cuts and scrapes, bruises, burns, fractures, broken bones, and sprains or strains. Many types of injuries, however, occur in the workplace every day.
Cuts, Scrapes, and Punctures
Cuts and scrapes, called lacerations, can occur in almost any industry. They are most common in machine shops, manufacturing, restaurants, and food production. They generally happen when injured workers fail to wear proper safety gear, rush to finish a job, or need to pay attention. Punctures occur when a sharp object pierces the skin.
Bruises
Bruises are also called contusions. They are the sore, discolored marks that occur when blood vessels break under your skin. They usually happen when you or a coworker drops something or the injured employee stumbles into an object they did not see. They can also occur, however, due to machinery failure or any other incident where heavy, blunt objects strike injured workers.
Burns
Burns can be caused by open flame, electricity, steam, exposure to radiation, acids and other chemicals, and even prolonged exposure to sunlight. Burn injuries are most common in restaurants but also occur in the manufacturing and production sectors, where acids, bases, and heat sources are part of the daily process.
At regular office jobs, they can occur when an employee heats their lunch too hot or spills coffee on themselves. Burns can occur internally from inhaling chemical fumes, steam, or smoke and can be severe medical conditions.
Fractures and Broken Bones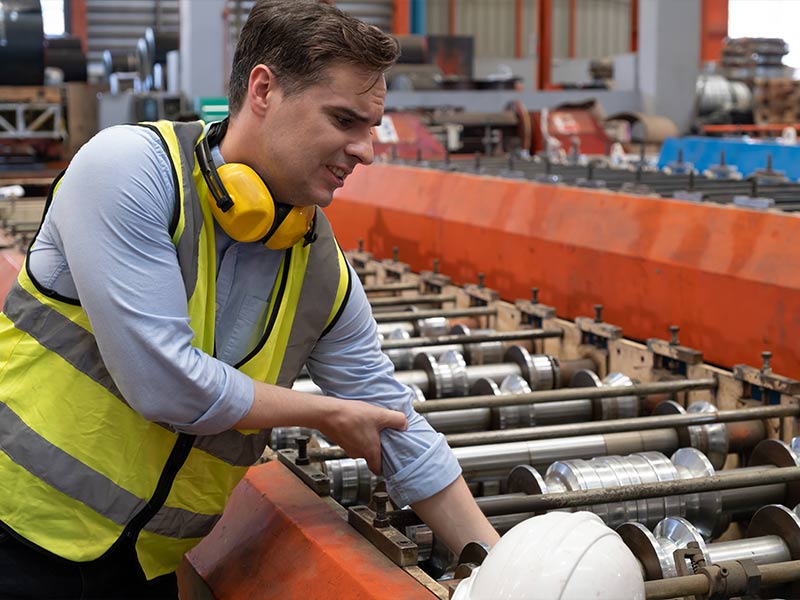 Fractures and broken bones occur from overuse or force trauma. They occur most of the time in manual labor positions and can result from heavy equipment accidents or falls. They can happen just about anywhere, and a simple fall can result in severe personal injury. Almost any broken bone or fracture results in impairment for a minimum of several weeks.
Sprains and Strains
Sprains occur when you tear or stretch your ligaments, while strains result from stretching or pulling muscles. They often happen in the workplace due to improper ergonomics or poor lifting methods. A trip and fall accident can also result in a sprain or strain; however, in some situations, simply twisting wrong as you get up from your chair can cause such an injury.
Other Types of Injuries
While the above are the most common types of injuries that may result in workers' compensation benefits, many different varieties of injuries occur every day, which can result in serious injuries. Just a few of the types of injuries that may result in eligibility for workers' compensation coverage include:
Eye injuries
Hearing loss
Traumatic brain injury
Amputation
Hernia
Organ damage
Repetitive motion injuries like carpal tunnel
Injured at Work? Here's What to Do in South Carolina
If you are injured at work in South Carolina, you should take several specific steps to give yourself the best shot at workers' compensation coverage. These steps are as follows.
Report the Injury
In our state, you have 90 days to report your injury to your employer. Reporting sooner, however, is always better, according to the Occupational Safety and Health Administration (OSHA). Making a report right away accomplishes two critical things. First, it enables you to give the details of the incident while they are fresh in your mind. Second, it shows that you take the injury seriously right from the start.
Obtain Medical Care
Get medical care immediately, especially if it is a serious injury. Your employer can select the doctor who will provide medical treatment under current South Carolina law. They may give you a list of physicians in their medical provider network, and you should choose a treating physician from that list if they do. You always have the right to see your own doctor, but your workers' compensation claim may not cover it unless your doctor is within your employer's medical provider network.
Hire a South Carolina Workers' Compensation Lawyer
The right workers' compensation attorney can help you to obtain workers' compensation benefits to cover your health care costs and part of your lost wages. Your lawyer can help to deal with issues from temporary disability benefits for temporary total disability (TTD) to temporary partial (TPD) or even permanent disability benefits. They can help you understand the difference between TTD and TPD, and how permanent and temporary or total and partial disability differ.
The right lawyer can also help you fight back against insurance adjusters who intend to deny your claim. They can help dependents seek death benefits for the loss of a loved one due to a fatal workplace accident. An experienced attorney from HawkLaw may even be able to provide resources for things like accessibility needs as you struggle to get your life back again. HawkLaw Fights to Win, but we are also a compassionate, knowledgeable ally when you need one in your corner.
How to Prevent Workplace Injuries in South Carolina
Safety is paramount in preventing workplace injuries in South Carolina. You must understand where dangers lie and practice the safety procedures to keep yourself and your coworkers safe from workplace injuries.
Understand the Hazards in Your Workplace
Be aware at all times of what is around you. Pay attention to those things that might present dangers, from heavy equipment to spills, precariously balanced items, or carelessly-left objects in common walkways. Keep an eye out for ways to eliminate or reduce these hazards.
Uphold Safety Standards
Know the safety standards for your workplace and be an example. Be sure that you always act in accordance with safety rules and regulations, and advocate for your fellow employees to do so as well.
Always Wear Safety Gear
Part of upholding safety standards is wearing the proper personal protective equipment. If you are on scaffolding, wear your harness. When on a construction site, wear your safety goggles and hard hat. Wear suitable protective gloves in a manufacturing line. Be sure your hazard suit is sealed when working with chemicals. Always ensure that you are protected and watch for employees who might be in danger.
Communicate Safety Hazards
Communication is key to keeping everyone safe. Report any violations of safety standards or risks that you spot. Suggest to your employer ways to make the space safer. Be involved in safety planning and exemplify safe behavior to everyone around you.
Get Compensated for Your Work-Related Injury
If you are injured on the job, you have rights. Workers' compensation exists to cover your medical bills and a portion of your lost wages so you can work to get well again. It also provides survivor's benefits to those left behind after a fatal accident. Getting these benefits, however, can require help from an experienced South Carolina workers' compensation attorney.
HawkLaw Fights to Win! Contact our law firm at 888.HAWK.LAW or use our online contact form to schedule your consultation today. Check out our disclaimer, and ask if you are eligible for a free case review.*
---