Myrtle Beach
Workers' Compensation
HawkLaw Fights for Myrtle Beach

4.8 Average on Google
Workers' Compensation Lawyer Serving Myrtle Beach
If you are injured at work, do not suffer alone. Instead, seek out the help of a workers' compensation lawyer who serves Myrtle Beach to get compensation for your injuries.
After experiencing an injury from work, your recovery might be difficult and a little confusing. You'll need to know what your workers' compensation benefits cover, but you may have some trouble getting that information. For example, nontraditional workplaces may lack a designated break room (where workers' comp posters are typically displayed). Additionally, you may encounter challenges in obtaining responsive communication from your employer.
If you need assistance with a workers' compensation case in Myrtle Beach, speak to your lawyer at Hawklaw, P.A. You are entitled to receive your complete benefits, and the workers' compensation attorney serving the Myrtle Beach area can assist you in securing these benefits following your accident.
Myrtle Beach cases are primarily handled out of our Charleston office.
What is Workers' Compensation Insurance?
Workers' compensation insurance is a type of insurance that provides coverage for medical expenses, lost wages, and more in the event of an accident occurring at work. Employers are required to provide safe working environments, so any accident that occurs on their premises is on them to cover in most cases. That is why they have workers' compensation insurance.
It is important to understand your rights as a worker and know when you are entitled to benefits. If you are hurt on the job in Myrtle Beach, you have a right to receive paid medical care and to be paid for the time you are unable to work during recovery. Your medical treatments should continue until you reach what is considered to be maximum medical improvement. If you have specific qualifying injuries, you may even have the right to lifetime benefits. If you return to work with restrictions on what you can do, you are also entitled to compensation for the difference in pre-injury wages. A personal injury lawyer with a practice area in workers' compensation can help.
Workers' Compensation Process for Myrtle Beach Workers
When you are injured on the job, your primary concern is going to be recovering from your injury. The details of filing for workers' comp certainly do not make the recovery process any easier, but the steps are important to know. Here are the most important steps to remember to put yourself in a good position to receive compensation.
Report the Injury to Your Employer
The first step you must take after you have received the proper emergency medical care is to report the injury to your employer. This is an essential step because your employer is responsible for providing you with the proper documentation to file a workers' compensation claim. Plus, you have to notify your employer within 90 days for your claim to even be eligible for benefits.
Seek Medical Attention
Your injury will likely require further care after the initial trip to the emergency room. Make sure to get all the necessary medical care that's recommended by doctors in the wake of your accident. Not only is this helpful for your recovery, but failing to follow the doctor's orders can be used against you by the insurance company, which can argue that it demonstrates how minor your injuries were.
Keep Records
You should maintain detailed records of all your medical expenses, treatments, and potential lost wages throughout the recovery process. This will serve as helpful evidence in your case when it comes to calculating economic damages, which are damages that can be specifically quantified in terms of compensation.
Watch Your Deadlines
Much like other insurance claims, workers' compensation claims have strict deadlines that you must adhere to if you want to receive benefits. Failure to meet these deadlines could result in your entire personal injury case being rendered ineligible for compensation. For example, South Carolina requires that injured employees alert their employer that they have been injured on the job within 90 days of the injury. Additionally, you have two years from the injury to actually file a workers' compensation claim, though it is always better to file sooner rather than later.
Can You File Both a Personal Injury Lawsuit and Workers' Comp Claim in Myrtle Beach?
While it is possible to file for both workers' comp and personal injury in a civil suit, your case may not warrant doing both at once. Typically, third-party lawsuits are only permitted when someone else's negligence is directly responsible for your workplace accident. For example, a vehicle driver on your worksite hit you, or you were injured through defective equipment. You can file for workers' compensation and hold the responsible party accountable in a civil suit.
Compensation in a third-party claim is typically restricted to anything your workers' comp claim did not cover. For example, you cannot get paid twice for the cost of your medical expenses. If workers' comp did not cover all of your medical expenses, however, a civil suit against the negligent third party could fill the gap in medical benefits. Remember, however, that your employer cannot be sued in a civil suit unless they directly violated your rights during the workers' compensation process.
One of the most important factors in civil cases is the availability of non-economic damages. Workers' comp only covers economic damages like medical costs and lost wages. Non-economic damages are a bit tougher to quantify but can be claimed in a civil personal injury suit. Just make sure you have a South Carolina personal injury lawyer by your side to help make those evaluations.
Types of Injuries That May Qualify for SC Workers' Compensation in Myrtle Beach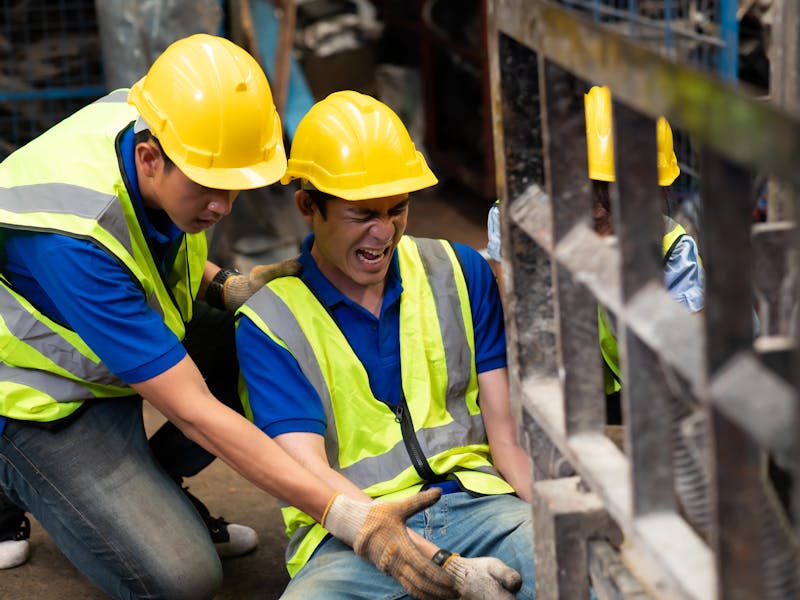 Anyone injured at work in Myrtle Beach may be entitled to South Carolina workers' compensation. Here are some of the most common types of injuries that are covered. As a disclaimer, this list is not exhaustive, and each personal injury case is evaluated on its own terms.
Crush Injuries
Crush injuries typically occur when accident victims are caught or trapped between objects. This can be moving equipment or other kinds of machinery, and it can potentially lead to serious injuries like back injuries or injuries to internal organs. Several safety measures should be in place to prevent these kinds of work-related injuries.
Broken Bones
Broken bones can occur for a variety of reasons, whether they result from a fall, malfunctioning equipment, or virtually anything else you can imagine. Not only are broken bones incredibly painful, but they take a long time to heal and can potentially never quite heal properly, leading to permanent disability.
Slip-and-Fall
A short fall can cause more damage than you might think. In fact, falls can lead to traumatic brain injuries, which, in turn, can have consequences that last the rest of your life. The construction industry is particularly deadly when it comes to falls, given that falls represent the primary cause of fatalities within this industry.
Electrocution
Dealing with electricity always requires many safety precautions, from securing the site to providing workers with the proper protective safety gear. Electrocution can be deadly, but even when it is not, voltage can still cause quite a bit of damage to victims, leaving them unable to work for an extended period.
Repetitive Tasks
Several occupations involve repeating the same task, causing excess wear and tear on the body. Even a minor motion repeated for an extended time can cause major bodily damage. Poor work ergonomics allow these injuries to manifest and could leave victims with conditions like back strain and tendonitis. Carpal tunnel syndrome is a common workplace injury that individuals in desk-bound roles may potentially experience.
Benefits for Myrtle Beach Workers
When you are injured on the job, you will need to determine what your workers' compensation claim is worth. You'll need compensation that covers all the losses you've suffered because of your work accident.
Ideally, your medical care should be covered. You should not have to pay out of pocket for your work injury. When you're not worrying about how you'll pay for the care you need, you can focus on healing.
You should also receive compensation that covers some of the wages you have lost while unable to work. The amount will depend on whether you are completely unable to work or able to commit to "light duty" while you heal. Fortunately, this coverage can take some of the financial pressure off you while you heal.
What Happens if a Loved One Died While on the Job?
If a family member or loved one suffered a wrongful death on the job, you might be entitled to death benefits. Dealing with the loss is tough enough on its own, so it is always a good idea to hire a lawyer serving Myrtle Beach to help you deal with the legal issues while you navigate the loss. In typical Myrtle Beach workers' compensation cases, you may receive compensation to recover medical bills and lost wages. Wrongful death cases work a bit differently.
In the instance of a wrongful death, you can potentially receive reimbursement for any funeral or burial expenses, though that coverage is capped at $12,000. Additionally, you may be able to receive two-thirds of the deceased's former earnings for up to 500 weeks. This is a matter of South Carolina law under SC Code 42-9-290.
Can You Get Workers' Compensation in South Carolina for Mental Illness?
Mental illness is always harder to deal with regarding insurance since many mental illnesses are not immediately visible or quantifiable. Still, the South Carolina Workers' Compensation Act states that employees can be covered for any mental injuries that are brought on by emotional stimuli or stressors present in the workplace. Put simply, mental illness is only covered if it is brought on by a physical injury that occurs at work or other extraordinary or unusual conditions of employment.
Many aspects of just about any job can be mentally taxing, so certain common practices will not qualify. For example, if you find yourself exceptionally stressed to the point where it negatively affects your mental health due to an upcoming work evaluation, transfer, or demotion, that will generally not be covered by workers' compensation. Of course, an exception can be made if any of the aforementioned actions were taken in an extraordinary manner. Given these vague qualifications, scheduling a free consultation* with a workers' compensation attorney is highly advisable.
What if My Job Aggravates a Pre-Existing Condition?
If you have a pre-existing condition, that will not necessarily bar you from workers' compensation benefits. Under South Carolina law, workers may be entitled to benefits if an injury suffered on the job aggravates a pre-existing condition. The only catch is that you must provide appropriate medical evidence to make your case.
Medical evidence is key if this is an aspect of your case. Your medical documentation must contain the following:
Details your pre-existing condition,
How the injury you suffered at work directly affected it
What the consequences for you have been
This can get quite complex, but an experienced workers' compensation lawyer can help you compile the evidence you need.
Dealing with a South Carolina Work Comp Denial
Unfortunately, while you may have completed all the right steps for your claim, you may have still received a denial letter. That can be an upsetting discovery, and you may be thinking about how you'll pay for treatment while you're unable to work.
Fortunately, your South Carolina attorney who serves Myrtle Beach workers can step in to help. They can help you fight back and present your request for benefits before the South Carolina Workers' Compensation Commission when you've been denied. When the insurance provider denies your claim, you'll need to contest that denial in a hearing.
There, your case will be reviewed, and the Workers' Compensation Commission will decide whether to uphold the decision or offer you workers' comp benefits. It can be tough to provide the right evidence and fight back for your case, but your attorney can help. Your workers' compensation attorney, who takes cases in Myrtle Beach, can review the accident, find evidence for your claim, and fight for you while your case is under review.
Why Was My South Carolina Workers' Comp Claim Denied?
Workers' compensation claims are denied for a wide variety of different reasons, but they are generally denied for one of three primary reasons. As a disclaimer, the denial letter you will receive will detail the exact reason why your claim was denied, so you always know where to begin your appeal. Here are a few of the most common reasons for denial.
Missed Deadlines
Even if your job injury claim is backed by a mountain of evidence, it can still be denied if you do not meet the proper deadlines of the workers' compensation system. Regardless of how great your need is, you will be denied if you do not meet the deadlines without exception. Even so, the deadlines do not necessarily have to begin the countdown the day of your accident. If you suffered an accident at work but the injury only manifested later, the time period for which you must file a claim begins from the discovery of the injury rather than from the date of the accident. You just need evidence supporting your timeline for the reasonable discovery of your injury.
Lack of Proof
With any workers' compensation claim, it is on you to demonstrate the value of your claim. Liability typically does not matter, but a tally of the damages you suffered undoubtedly does. Establishing the lost wages you suffered is easy enough with some pay stubs, but showing the extent of your injuries, medically speaking, is a bit trickier. You must submit proper health care evidence and a testimonial from your attending physician or physicians. Records of doctor visits and treatments will also be necessary for your case.
Injury Did Not Occur at Work
Obviously, workers' compensation only applies if the injury occurred while you were at work. It is important to note, however, that you did not necessarily have to suffer the personal injury on company grounds. If you were injured in a car accident in your car while driving to make a delivery on behalf of your business while on the clock, for example, you can still file a workers' compensation claim. Be sure to discuss what qualifies as being at work with a South Carolina workers' compensation attorney from HawkLaw. Call today to schedule a free case evaluation.*
What Challenges Usually Arise With Workers' Comp Cases?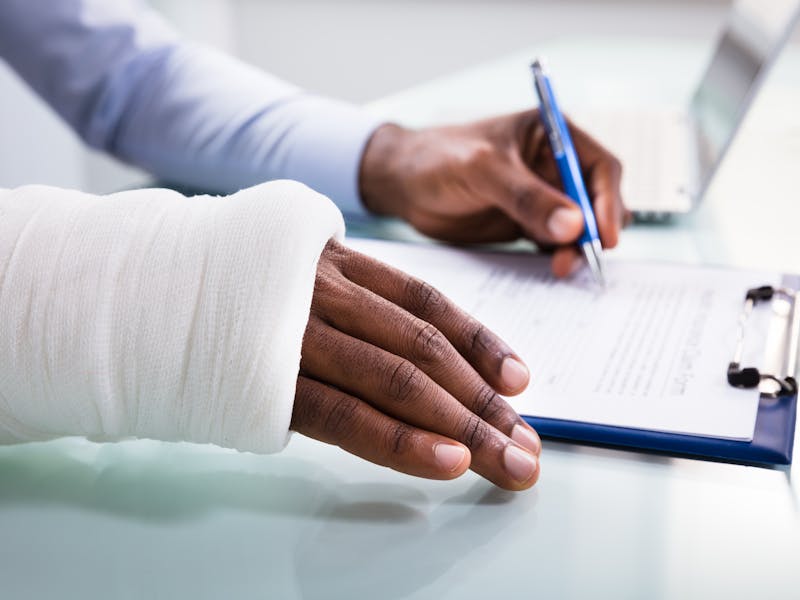 Some challenges can occur throughout workers' compensation cases that could cause problems for you claiming the damages you suffered. Here are a few common obstacles that workers' comp lawyers serving Myrtle Beach frequently see.
Employer Trivializes Injuries
Your employer may not take your injuries as seriously as they need to, which can seriously impact your claim's validity. They often do this because they want you to return to work as soon as possible and do not want to bother with a workers' comp claim. To combat this, you must provide evidence like medical records and eyewitness statements of your injury. Your employer may even try to claim that your injury did not occur at work. Remember to get legal advice from a workers' compensation lawyer to ensure what qualifies as on the job.
Employer Never Follows Up
Even if you report your injury to your employer promptly, they can fail to follow up. Whether it slips their mind or they act maliciously, failing to meet deadlines can seriously compromise your case. That is why it is important to bother your employer for information about a follow-up as much as possible. Ask every day until they can confirm they have taken the proper steps.
Fear of Retaliation
Some workers may feel that filing for workers' comp will cause their employer to retaliate against them. This is not exactly unfounded either, as some employers do. However, it is important to remember that workers' compensation law prohibits employers from retaliating toward injured workers due to a workers' comp claim. A workers' compensation attorney can help.
Claim Denial
Of course, your claim can always be denied by the commission. If you leave it at that, you will never receive the compensation you need. If your claim is denied, you will need to begin the appeal process. It can be fairly complex, so an attorney from an experienced law firm will be necessary to navigate the steps to make your case.
Speak to a Workers' Comp Lawyer Who Serves Myrtle Beach
When you've suffered through a work accident, you'll need help getting the full compensation you deserve after your accident. Fortunately, your workers' compensation attorney from the law offices of HawkLaw, P.A. will have the experience and the tools you need to recover.
If you're struggling to get your full workers' compensation benefits, reach out for the help you need, starting with a free consultation.* We will review your case and help you understand exactly how we can help.